to fix Australia's housing affordability crisis, negative gearing must go
Written by

Richard Holden, Professor of Economics, UNSW
House prices are back in the news, and out of control.
In the past three months the median house price in Sydney has risen by more than A$100,000 to A$1.12 million. Sydney's median residential property price (including houses and apartments) is now 2.6% above its previous high-water mark[1], recorded in August 2017, before lending criteria were tightened (and COVID-19 struck).
Even areas far from central Sydney, such as the Central Coast, have recorded double-digit percentage increases.
What exactly is driving these sharp rises is a matter of debate. Australia's economic recovery from COVID-19 has been stronger than many thought. The prospect of most Australians being vaccinated and international borders reopening provides further hope – even if our vaccine roll-out has been less than stellar in its planning and execution.
Of course, interest rates are at historic lows. More to the point, loans that can be fixed for three or five years have become much cheaper and more widely used as well. This has given borrowers the capacity to borrow larger sums.
The federal government has contributed, too, with a suite of measures targeted at first-home buyers. Like all such measures, these look attractive at the individual level but simply translate into higher prices. Schemes like the "first home owner grant" should really be called the "seller subsidy".
Finally there is the elephant in the room: irrational exuberance.
Who knows how much "fear of missing out" has played into price rises. Against the backdrop of a worldwide public health and economic crisis, one might think buyers would be a little more circumspect about their future incomes.
But apparently not so much.
Our housing affordability problem
Sadly, there is little new about the fact that Australia – and the largest capital cities in particular – have a serious housing affordability problem. It has been that way for at least a decade.
Sydney and Melbourne are routinely ranked among the top half-dozen most expensive cities in the world when comparing housing prices to average incomes earned in those cities.
Home ownership rates have fallen more or less constantly. Young people are basically excluded from home ownership unless they have very high incomes or parents with the means and inclination to provide financial help.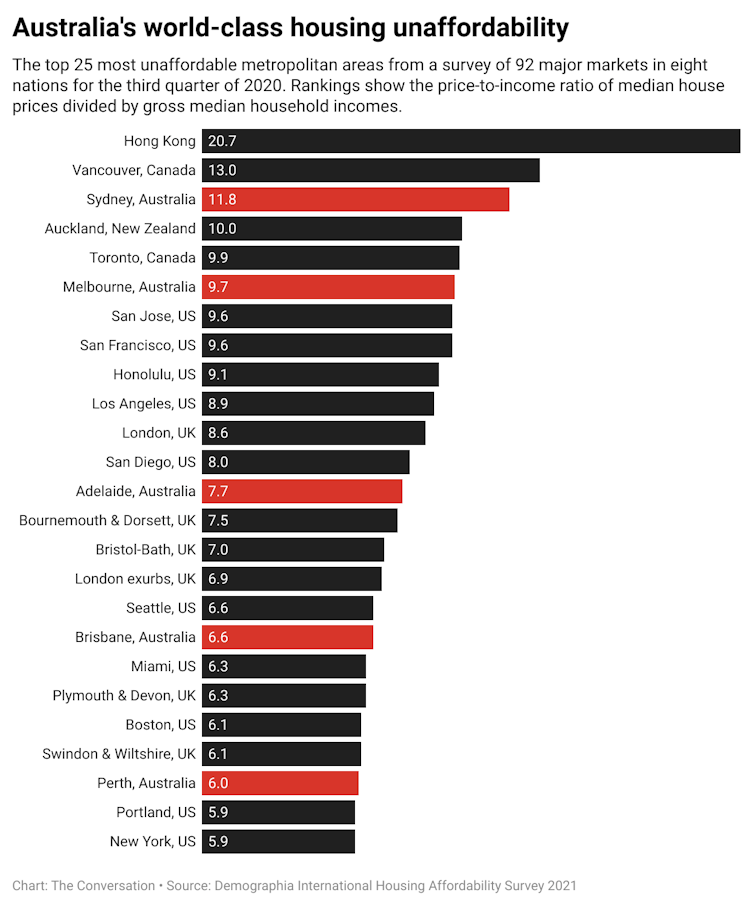 Authors: Richard Holden, Professor of Economics, UNSW
Read more https://theconversation.com/vital-signs-to-fix-australias-housing-affordability-crisis-negative-gearing-must-go-158518