Aussie meal prep business booming as consumers stay in
Written by

Tess Sanders Lazarus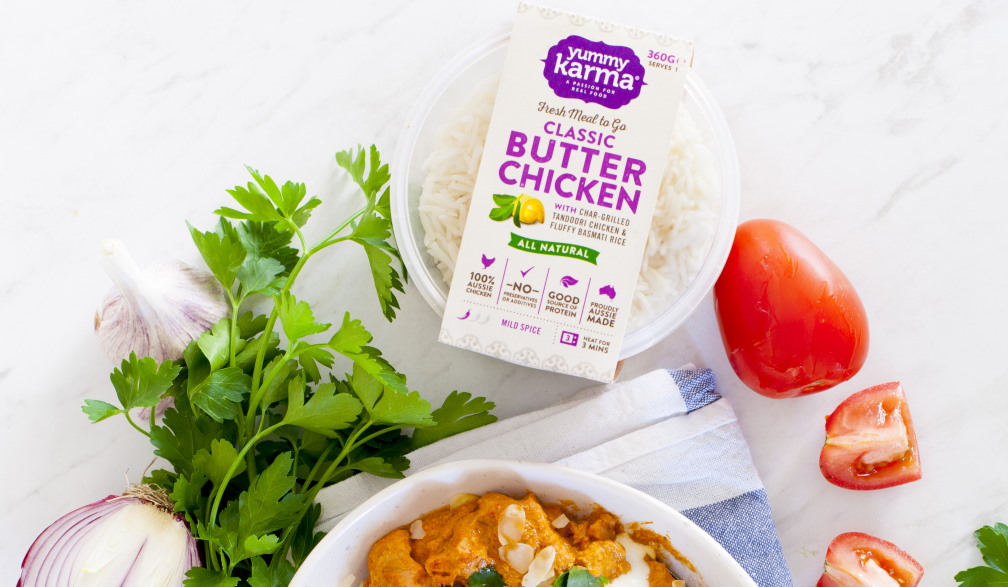 With increased demand for high quality, healthy ready-made food, and a pandemic still in full swing, local fresh foods solutions company Yummy Karma has experienced exponential growth.
"COVID-19 saw people staying at home and eating all their meals at home. Now as the country continues to return to everyday routine, there has been an increase in demand for easy and nutritious foods on-the-go as consumers extend their desire to bring the 'outside in'," Yummy Karma, CEO and cofounder, Adnan Galabhai said.
"As our busy lives return to normal, we have seen a growing demand for restaurant-quality food that provides a healthier alternative to fast food, while not breaking the bank. Many Aussies lead demanding lives and do not have a lot of time to prepare food for themselves or their family. With our world ramping back up, a lot of people are seeking out convenience foods due to their greater time constraints from working, commuting and socialising – and just wanting to continue to enjoy restaurant quality food in the convenience of their own home."
According to Galabhai, the Food & Drink Business Association reported that in Australia, the ready meals market was valued at $853.61 million in 2013, which by 2019 had grown to $1.14 billion, and is projected to be worth $1.58 billion by 2024.
"I have been that person. As two busy professionals, my wife, Anisa, and I were extremely time poor, and we often found ourselves ordering takeout or eating highly processed foods. These habits became incredibly expensive for our young family, and often left us feeling lethargic after eating these high fat and sugar content foods that didn't deliver a lot of sustenance," Galabhai said.
"We knew there needed to be a better, healthier solution, which is when we decided to quit our day jobs and pour all of our savings and time into Yummy Karma."
According to Galabhai, Yummy Karma was born in 2016 when their frustration as two busy professionals peaked due to a lack of availability of natural, fresh and tasty meal solutions in the market.
"Today, people want convenience. We are all living in an era that is dominated by instant gratification. Consumers are attracted to ready-made meals due to their variety and ease of use with limited effort required – often delivered to your door with simple microwaving instructions on the packaging," Galabhai said.
"What has made Yummy Karma stand out in the industry is our focus on real, 100 percent natural food, as well as an obsession with quality and delivering the best tasting products in the market.
"Unlike the majority of convenience meal companies, we firmly stand for clean food, and do not add anything to our products customers wouldn't find in their pantry or couldn't pronounce; no artificial colours, preservatives, flavours or E numbers.
"Our philosophy is simple but unique. At Yummy Karma we use only the freshest and best quality ingredients, have a relentless focus on taste, and pride ourselves on producing the cleanest, most natural products in the market. 
"For consumers that want meals that are easy, and have variety and health benefits, Yummy Karma has proven a life saver for them as their busy lives have picked back up after lockdown."
According to Galabhai, ready made foods have boomed in Australia. They are convenient for people who cannot spend much time in food preparation, have little or no culinary skills, or can't afford a private chef like we see on our Netflix screens.
"While people were in lock down they also wanted restaurant quality food at home. Essentially they wanted the outside in. This also helped to fuel our extraordinary growth and is likely to be an ongoing factor as a lot of people continue to work from home as well. COVID has reshaped our lives tremendously," Galabhai added.
"From humble beginnings, we are incredibly proud of the way in which Yummy Karma has evolved and developed over the last five years.
"The business has grown to become a national supplier of fresh prepared meal solutions servicing the retail, foodservice and direct-to-consumer channels. Some of our key clients include Harris Farm Markets, Qantas, IGA, Costco, Woolworths, Foodworks, and Compass Group, and we have exciting opportunities in the pipeline with other major commercial foodservice customers.
"Our convenient meal solutions are available in two key options, depending on whether the consumer wants a meal or a snack. Our Meal Pots spruce up meal time with a range of all natural, gluten-free heat and eat meal inspired by Indian and Thai flavours, such as our Classic Butter Chicken with Basmati Rice, and Pumpkin, Cauliflower and Pea Curry with Brown Rice Quinoa. Alternatively, our Snack Bites are perfect for snacking, as a side dish, finger food, or to spruce up salads and wraps, such as our Herbed Pumpkin and Chickpea Bites, and the Broccoli and Brown Rice Bites."
Established in 2016, Yummy Karma is a leading manufacturer of fresh food solutions, supplying supermarkets and foodservice channels throughout Australia. Based out of Pendle Hill in Sydney's west, the business operates from a state-of-the-art food production facility, complying with the highest standards of food safety. Yummy Karma is 100 percent Australian owned and produced, and the team strives to support local farmers and suppliers where ever possible. Besides retail products, the business also specialises in bulk foodservice products and can also develop private label products as per customers' requirements.