The successor to JobKeeper can't do its job. There's an urgent need for JobMaker II
Written by

Renee Fry-McKibbin, Professor of Economics, Crawford School of Public Policy, Australian National University
Until the end of last month one million workers were paid by JobKeeper.
This month there are none. Treasury thinks up to 150,000[1] will lose their jobs.
Credible estimates put the number higher, at as much as one quarter of a million[2].
In its place, the government introduced a A$4 billion JobMaker Hiring Credit[3]. It will give employers who can demonstrate that a new employee will increase overall headcount (and payroll) $200 per week if the new hire is aged 16-29, or $100 if the new hire is aged 30-35.
Billions on offer, little takeup
Employers will get nothing for new hires aged 36 and over — no matter how disadvantaged and no matter how suitable.
The scheme hasn't got off to a good start. It is reported to have had only 609[4] applications in its first seven weeks.
The October budget said it would attract 450,000[5] applications, creating 45,000 jobs.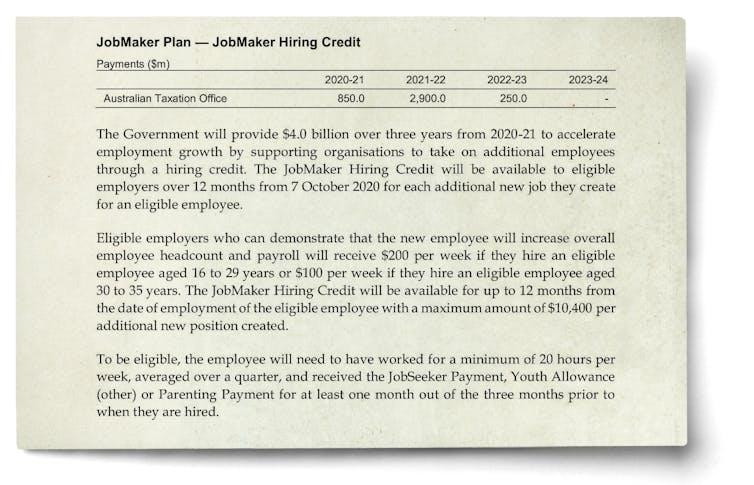 Authors: Renee Fry-McKibbin, Professor of Economics, Crawford School of Public Policy, Australian National University
Read more https://theconversation.com/the-successor-to-jobkeeper-cant-do-its-job-theres-an-urgent-need-for-jobmaker-ii-158391