two decades that changed supermarket shopping in Australia
Written by

Gary Mortimer, Professor of Marketing and Consumer Behaviour, Queensland University of Technology
Twenty years ago, on January 25 2001, a virtually unknown German supermarket chain quietly opened its first stores in Australia.
The two stores[1] – one in Sydney's inner-west suburb of Marrickville, the other in the outer south-west, near Bankstown Airport – were small, about a quarter the size[2] of a mainstream supermarket. Each stocked just 900 products, 90% of which were unknown brands.
Shoppers had to bring and pack their own bags themselves. To use a trolley required a "gold coin". They didn't seek to entice customers with "loyalty[3]" rewards or other gimmicks.
Few Australian supermarket executives at the time would have considered them models for success. They couldn't imagine the impact Aldi would have on Australia's retail sector and shopping habits.
Aldi's history
Aldi's story began in 1913[4], when Anna Albrecht opened a small grocery store in 1913[5] in the city of Essen, western Germany.
Her two sons, Karl and Theo[6], took over the business after World War II. In the impoverished conditions that followed Germany's defeat, they focused on keeping costs, and prices, low. Among their strategies were to stock only the most popular items and avoid perishable items.
By the end of the decade they had more than a dozen stores[7], and by the end of the 1950s more than 300[8].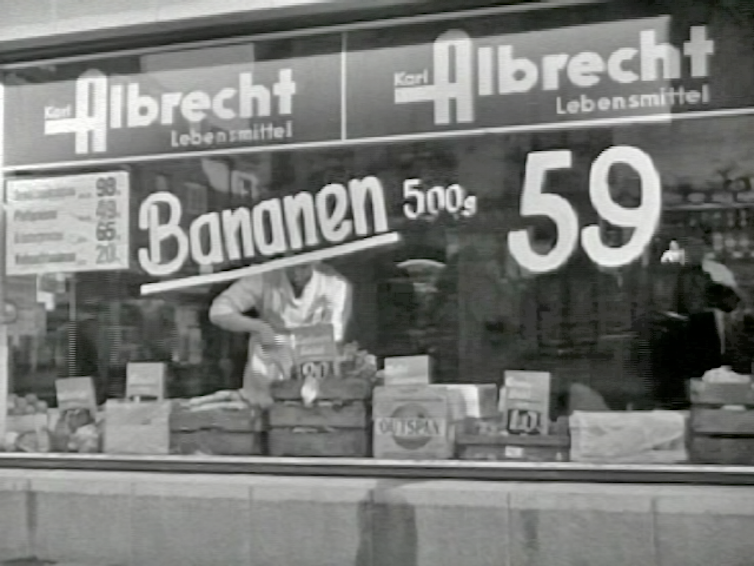 Alfred Wagg Pictures/Wikimedia, CC BY-SA[9][10]
The brothers adopted the the name Aldi – combining the first two syllables of Albrecht Diskont ("discount" in German) – in 1961[11] (though accounts differ on the year).
At about the same time (again, accounts differ on the year) they had a major disagreement over whether to sell cigarettes. They resolved the dispute by splitting the business into two geographic entities: Aldi Nord ("North"), run by Theo (and selling cigarettes), and Aldi Süd ("South"), run by Karl. The split was amicable, and they managed the two divisions collaboratively.
From the late 1960s Aldi began to expand across Europe, beginning with the acquisition of Austrian grocery chain Hofer. It opened its its first US store, in Iowa City[12], in 1976, and its first British store, in Birmingham)[13], in 1990.
So by the time Aldi opened its first stores in Australia, it was a booming multinational. It now has more than 10,000 stores in 20 countries, including China.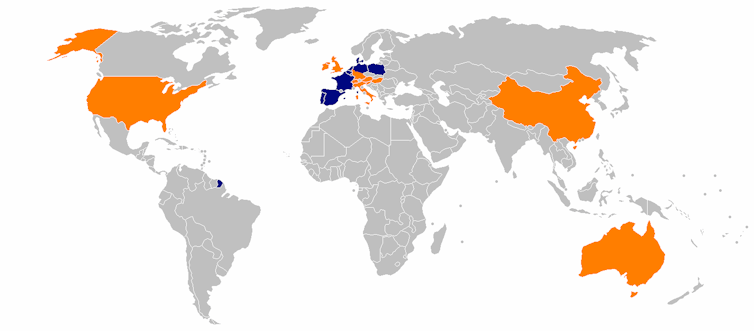 LnG91/Wikimedia Commons, CC BY-SA[14][15]
Aldi's growth in Australia
In coming to Australia, Aldi pounced on a gap in the grocery retail market.
The "food discounter" model had been dominated by now defunct Franklins[16] and Bi-Lo[17] (owned by Coles). By the late 1990s, however, these chains had messed with their "no-frills" model through attempts to go upmarket[18]. It proved disastrous. Franklins went into terminal decline. Coles abandoned the Bi-Lo brand[19] in 2006.
Aldi expanded quickly. By mid-2003 it had 38 stores in New South Wales and six in Victoria. By 2011, it had 251 stores[20]. By early 2013, more than 280[21], and had expanded to Canberra.
It overtook the IGA group to become the third-biggest player in Australia's supermarket sector by the end of 2013 – taking 10.3% of all grocery dollars[22] (with Coles having 33.5% and Woolworths 39%). Its first stores in South Australia[23] and Western Australia[24] came in 2016.
It now has more than 500 stores and a 12.4% share of Australia's A$110 billion[25] food and grocery sector (according to the most recent data from Roy Morgan[26]).
Authors: Gary Mortimer, Professor of Marketing and Consumer Behaviour, Queensland University of Technology
Read more https://theconversation.com/the-rise-and-rise-of-aldi-two-decades-that-changed-supermarket-shopping-in-australia-152822