Why the Morrison government's 'double-dipping' gambit fails the pub test
Written by

Joo-Cheong Tham, Professor, Melbourne Law School, University of Melbourne
It's almost unimaginable: an Australian government proposes a law that would wipe out billions of dollars of employers' entitlements.
Even more unimaginable: it does so on the basis of mistakes made by employees.
Yet right now a "Black Mirror" scenario lies before Australia's federal parliament, in the form of the Morrison government's "ominbus" industrial relations bill.
It proposes to extinguish entitlements owed to workers due to the mistakes made by employers. If passed, thousands of low-paid workers[1] stand to lose billions of dollars in entitlements.
But that's not even the worst thing that can be said of the bill. Worse still is the cynicism of its premise, the need to "fix" a problem that does not really exist.
To appreciate the depth of that cynicism, let's recap the smoke and mirrors that have made "double-dipping" – the "horror scenario" of paying workers misclassified as casual employees both a 25% casual loading and paid leave entitlements – a hot-button issue.
Read more: So much for consensus: Morrison government's industrial relations bill is a business wish list[2]
Paying the costs of employer mistakes
Action is needed, the government claims, to address the "uncertainty[3]" over employers incurring up to A$39 billion liabilities because of a Federal Court decision in May 2020.
Known as Rossato v Workpac[4], the case was unusual because the defendant, labour-hire company WorkPac – with the federal government's support[5] – funded the legal action against it by former mine worker Robert Rossato.
Rossato argued Workpac should have employed him as a permanent worker, rather than a casual worker, given his regular work roster. Workpac wanted the Federal Court to hear the case so its lawyers could try some arguments not used in Workpac's unsuccessful defence of a 2018 court case (involving similar claims by fly-in-fly-out worker Paul Skene).
One of Workpac's new defences was that Rossato (and workers in similar situations), even if misclassified as casual employees, had been paid a casual loading that should be "set off" against leave entitlements now accrued to them.
As Andrew Stewart summarised at the time[6]: "In other words, if he was entitled to the benefits he claimed, he had already been paid for them."
The Federal Court rejected this argument comprehensively.
In finding for Rossato, it ruled the casual loading paid any worker wrongly classified as a "casual employee" did not offset their separate entitlement to paid leave, as guaranteed to all permanent employees under the Fair Work Act.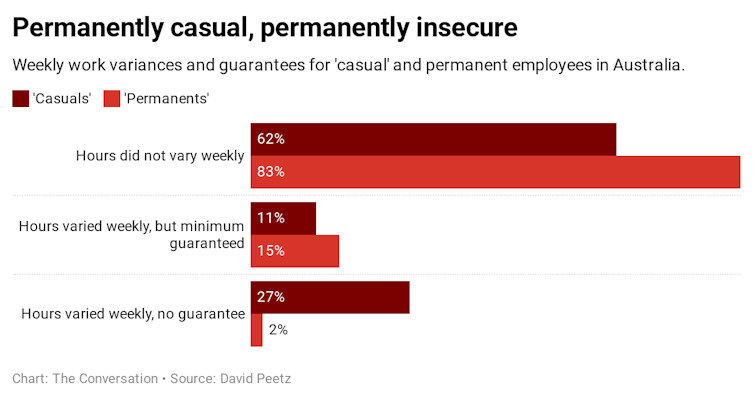 Authors: Joo-Cheong Tham, Professor, Melbourne Law School, University of Melbourne
Read more https://theconversation.com/why-the-morrison-governments-double-dipping-gambit-fails-the-pub-test-152016