Reforming 'dad leave' is a baby step towards greater gender equality
Written by

Owain Emslie, Senior Associate, Grattan Institute
Grattan Institute research published today[1] shows the average 25-year-old woman who goes on to have a child can expect to earn A$2 million less by the time she is 70 than the average 25-year-old man who becomes a father. For childless women and men, the lifetime gap is about A$300,000.
This earnings gap leaves mothers particularly vulnerable if their relationship breaks down.
Unpaid work still falls largely on women
The income gap between mothers and fathers is typically due to women reducing their paid work to take on most of the caring and household work.
Even before COVID-19, Australian women were doing 2.2 fewer hours of paid work on average but 2.3 more hours of unpaid work[2] than men every day.
Read more: COVID-19 is a disaster for mothers' employment. And no, working from home is not the solution[3]
The following chart shows how women's and men's time use diverges after the birth of their first child. Mothers typically reduce their paid work to take on the lion's share of caring and household work. The change for fathers is less dramatic. They continue their paid work and take on some extra caring.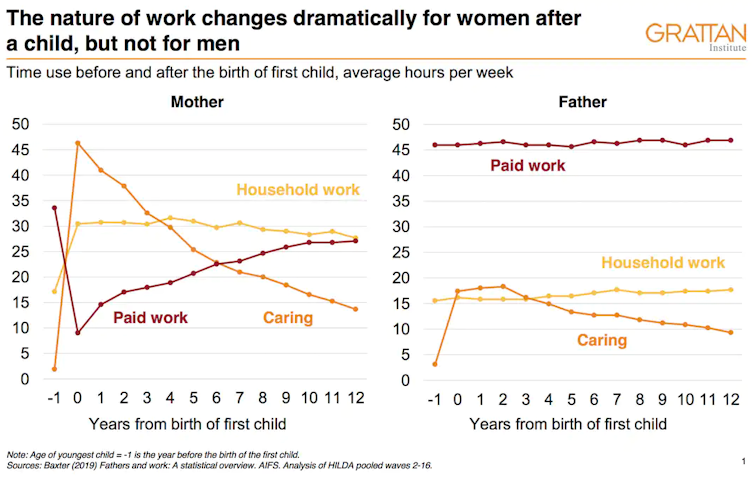 Authors: Owain Emslie, Senior Associate, Grattan Institute
Read more https://theconversation.com/reforming-dad-leave-is-a-baby-step-towards-greater-gender-equality-144113