Vital signs. Our compulsory super system is broken. We ought to axe it, or completely reform it
The just-announced inquiry[1] into Australia's retirement income system ought to be anything but run-of-the-mill.
Taking place 25 years after the introduction of compulsory superannuation, it provides an opportunity to either fix a broken system, or discard it as failed experiment.
Incremental reform won't work.
There's a budget problem
The first and most fundamental problem with compulsory super lies in fiscal arithmetic.
After a quarter of a century of compulsory super, some 70% of the aged population still rely on either a full or part age pension, which is an awful lot for a system whose stated aim is to substitute or supplement the age pension[2].
Modelling by actuarial firm Rice Warner[3] predicts that it will still be 57% by 2038.
That's right. After almost half a century of compulsory super – an entire working life – more than half the aged population will still be collecting the age pension.
It's progress, of a sort.
By then then age pension will take up 2.5% of Australia's economic output, down from the present 2.7%.
Read more: Productivity Commission finds super a bad deal. And yes, it comes out of wages[4]
It will still account for one in every ten dollars spent by the government. That's more than defence, twice as much as Medicare, and twice as much as the Commonwealth spends on schools.
In return, the government forgoes an enormous amount of revenue on superannuation tax concessions.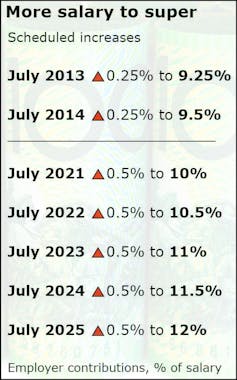 Authors: Richard Holden, Professor of Economics, UNSW
Read more http://theconversation.com/vital-signs-our-compulsory-super-system-is-broken-we-ought-to-axe-it-or-completely-reform-it-124974