Inequality is growing, but it is also changing as Australia's super rich evolve
Written by

Salvatore Ferraro, Lecturer, RMIT University
This year's Australian Conference of Economists[1] takes place in Melbourne on July 14-16.
During the conference The Conversation will publish a selection of pieces written by the authors of papers to be delivered at the conference.
Since the surprise re-election of the Coalition, there has been renewed debate about the role the "aspirational" Australian played in the final outcome. The debate is taking place against the backdrop where income inequality has been growing in most developed countries over the past half-, including in Australia.
Bureau of Statistics figures released on Friday show that the wealth of Australia's wealthiest households has grown much faster[2] than the wealth of the rest.
Household net worth by quintile (top fifth to bottom fifth)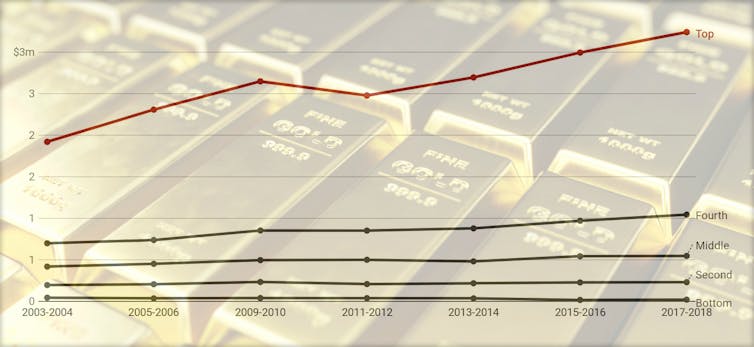 ABS 6523.0
[3]
Over the course of the 20th century, income equality has been U-shaped, a point noted by French economist Thomas Piketty [4] and Australia's Productivity Commission.
In Australia, the income share of the top 1 per cent peaked at 14% in 1950, then fell to a low of 5% in the early 1980s before climbing again to 9% by 2015.
Wealth inequality has also followed a long term U-pattern, and in many countries wealth is even more concentrated than income.
The Productivity Commission finds that in Australia, a person at in the top 10% of wealth distribution has 40 times[5] as much wealth as a person in the bottom 10%. That person has four times as much income.
Income shares of the top 1%, by country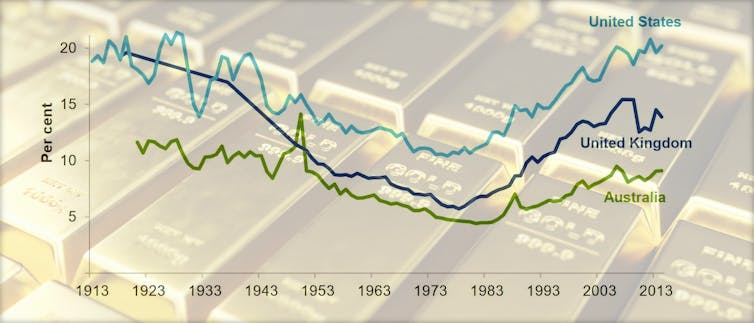 Productivity Commission, 2018
[6]
In a paper to be presented to the Australian Conference of Economists in Melbourne on Tuesday, my colleague Monica Jurin and I shed light on wealth inequality over the past three decades through the lens of Australia's super rich – the richest 200 households and families.
The super rich are changing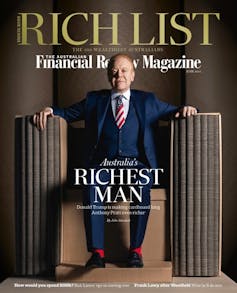 Authors: Salvatore Ferraro, Lecturer, RMIT University
Read more http://theconversation.com/inequality-is-growing-but-it-is-also-changing-as-australias-super-rich-evolve-119925