HILDA Survey reveals striking gender and age divide in financial literacy. Test yourself with this quiz
Written by

Roger Wilkins, Professorial Research Fellow and Deputy Director (Research), HILDA Survey, Melbourne Institute of Applied Economic and Social Research, University of Melbourne
The Household, Income and Labour Dynamics in Australia (HILDA) Survey[1] tells the stories of the same group of Australians over the course of their lives. Starting in 2001, the survey now tracks more than 17,500 people in 9,500 households.
One of the most striking findings from this year's HILDA report[2] is the large gender divide in financial literacy. Women exhibit much lower levels of financial literacy than men.
The OECD International Network on Financial Education[3] defines financial literacy as:
a combination of awareness, knowledge, skill, attitude and behaviour necessary to make sound financial decisions and ultimately achieve financial wellbeing.
A series of questions assessing basic competencies in financial concepts such as inflation, portfolio diversification and risk versus return, developed by Annamaria Lusardi and Olivia Mitchell[4], was put to the 17,500 HILDA respondents in 2016.
Quiz Maker[5] – powered by Riddle
Read more: Home ownership falling, debts rising – it's looking grim for the under 40s[6]
We found that, across Australia as a whole, about 50% of men correctly answered all questions, compared with only about 35% of women.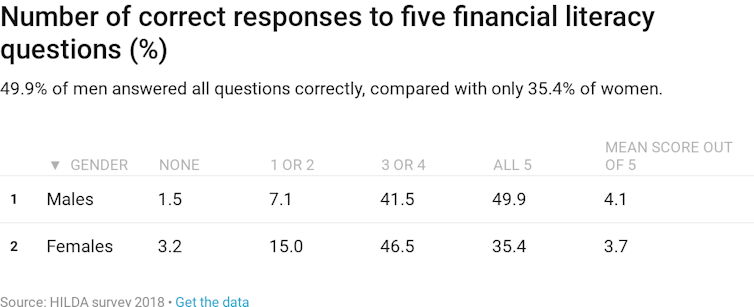 Authors: Roger Wilkins, Professorial Research Fellow and Deputy Director (Research), HILDA Survey, Melbourne Institute of Applied Economic and Social Research, University of Melbourne
Read more http://theconversation.com/hilda-survey-reveals-striking-gender-and-age-divide-in-financial-literacy-test-yourself-with-this-quiz-100451