Australians worry more about losing jobs overseas than to robots
Written by

Nicholas Biddle, Associate Professor, ANU College of Arts and Social Sciences, Australian National University
Not a week goes by without a news story (or a few) about people losing their jobs to robots, or the potential effects of a rapidly changing labour market. We are told repeatedly about how many jobs are going to be lost. Both unskilled and skilled jobs are predicted to disappear.
These risks are no doubt real, if uncertain in their magnitude. But these prognoses are largely the work of academics and economic forecasters. How do Australians feel about their job prospects in an age of automation? Rather than robots, the 25th ANUPoll[1] finds our greatest concerns are the risks posed by poor management and jobs going overseas.
Read more: Why we don't need to prepare young people for the 'future of work'[2]
The ANU Centre for Social Research and Methods[3] with the Social Research Centre[4] recently asked a representative sample of more than 2,500 Australians about their anxieties related to the future of work. The ANUPoll[5] finds that Australians are reasonably sanguine about their current jobs. However, we are concerned about finding employment in the future if we lose our job.
Pointedly, Australians are more concerned about the threats posed by poor business management and international workers willing to work for lower wages than about the prospect of our jobs disappearing through automation. To put this another way, we are more worried about the globalisation of employment and trade than about competition from robots.
What did we ask and what did we find?
A core question in this ANUpoll is: "Thinking about the next 12 months, how likely do you think it is that you will lose your job or be laid off/have to lay off employees or close the business?"
The overwhelming majority surveyed believe it is "not at all likely" (44.9%) or "not too likely" (42.8%).
Australian workers are quite comfortable with their current job security. But the level of comfort varies by sector of employment.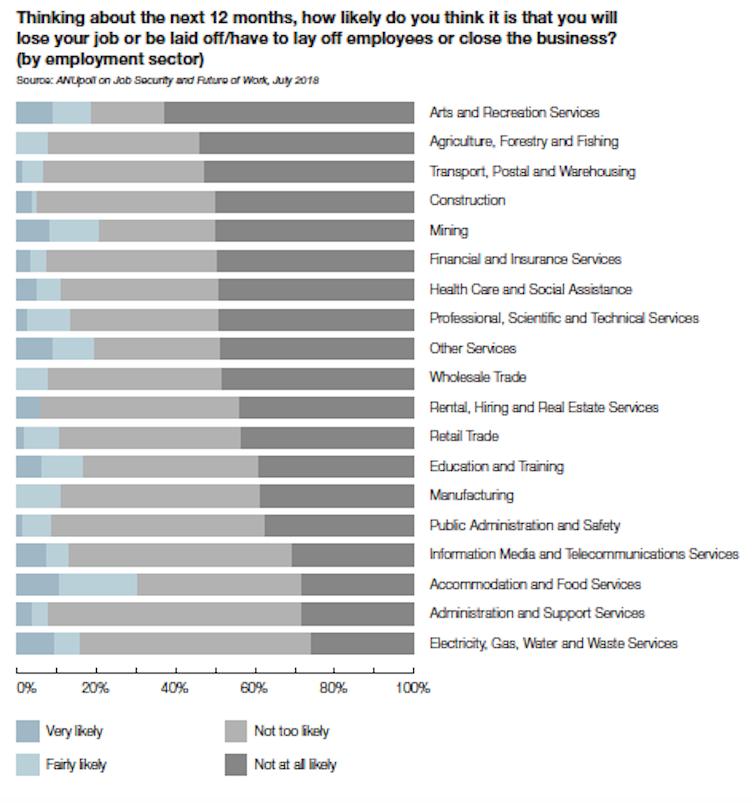 Authors: Nicholas Biddle, Associate Professor, ANU College of Arts and Social Sciences, Australian National University
Read more http://theconversation.com/australians-worry-more-about-losing-jobs-overseas-than-to-robots-100728