Myth busted. Boosting super would cost the budget more than it saved on age pensions
Written by

Brendan Coates, Program Director, Household Finances, Grattan Institute
It is often claimed[1] that Australia's superannuation system will ease the budgetary burden of an ageing population. It's certainly the impression put about[2] by those pushing for an increase in employers' compulsory contributions from 9.5% to 12%.
But new estimates suggest that for up to a century that wouldn't be the case. Indeed, for decades to come, an increase in compulsory super contributions of the kind Labor is committed to[3] and the Coalition has leglislated[4] would add to, rather than ease, the burden on taxpayers.
That's in addition to the A$20 billion a year[5] such an increase would take from workers' salaries each year, often without giving them[6] a better income in retirement.
Here's why super is a burden on the budget
It is evidence that will be crucial to the inquiry into Australia's retirement system foreshadowed by Treasurer Josh Frydenberg[7].
It isn't that superannuation doesn't save the government money on pensions, it is that it costs it more in tax breaks than than it saves on the pension.
The money employers pay into super accounts doesn't come from nowhere. Most of it comes from money employers would have paid out at wages[8], taxed at the appropriate tax rate. Paid into super accounts, it is generally taxed at only 15%, a concession the Treasury believes will cost A$17 billion[9] next financial year.
Lifting compulsory super from 9.5% to 12% as is legislated over the five years from 2021 to 2015 will deprive the Treasury of an extra A$2 billion to A$2.5 billion[10] per year.
Read more: Frydenberg should call a no-holds-barred inquiry into superannuation, now, because Labor won't[11]
In 2013 the Treasury estimated that the extra revenue foregone from tax breaks after contributions were lifted from 9% to 12% would exceed the budget savings on the pension by 0.4% of GDP a year[12].
Eventually – by 2050 – the net budgetary cost of super tax breaks would be "only" 0.2% of GDP a year. The extra cost of the tax breaks would continue to exceed the savings on the pension until about 2060, with the resulting debt not paid off in savings on the pension for decades.
The latest projections are bleaker
More recent modelling[13] from actuarial firm Rice Warner paints an even worse budgetary picture.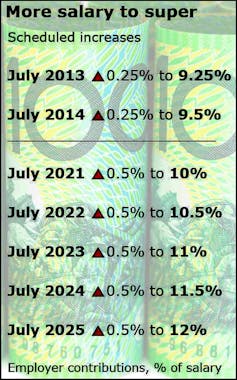 Authors: Brendan Coates, Program Director, Household Finances, Grattan Institute
Read more http://theconversation.com/myth-busted-boosting-super-would-cost-the-budget-more-than-it-saved-on-age-pensions-119002