Vital Signs. If needed, this man can and will cut rates during the election campaign
Written by

Richard Holden, Professor of Economics, UNSW
It was a great story.
Philip Lowe[1] had taken over as Reserve Bank governor after 25 years of uninterrupted economic growth. The Australian economy was transitioning nicely away from the country's biggest-ever mining boom. Interest rates had been cut to historic lows in the wake of the 2008 financial crisis and had bottomed out. Inflation and wages growth were about to pick up. Unemployment was falling. And the new governor would preside over a return to "new normal", with gradual rate rises up to a cash rate of 3.5-4.0%.
Then a funny thing happened on the way to the fairytale ending.
In a remarkable speech at the National Press Club on Wednesday[2], Lowe essentially admitted that the bank might well need to take extra remedial action to get the economy moving again.
Gone was the mantra that "the next movement in interest rate will likely be up". Rather, Lowe said:
…here are scenarios where the next move in the cash rate is up, and other scenarios where it is down. Over the past year, the next-move-is-up scenarios were more likely than the next-move-is-down scenarios. Today, the probabilities appear to be more evenly balanced.
Translation: "I don't want to freak you out, but we're probably going to have to cut rates. And do it sooner rather than later."
Consider the two main things driving the Reserve Bank's decision.
Inflation is stubbornly low. As I pointed out last week[3], the bank has long had an inflation target of 2-3%, but it keeps undershooting it, and not just missing the centre, but missing the lower bound. In two and a half years with Lowe as governor, inflation has averaged just 1.87% – and has never been inside the target band. The latest figure is 1.8%.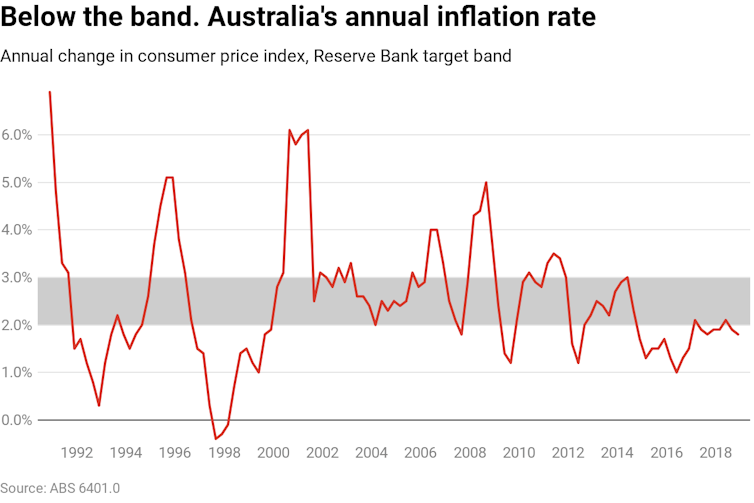 Authors: Richard Holden, Professor of Economics, UNSW
Read more http://theconversation.com/vital-signs-if-needed-this-man-can-and-will-cut-rates-during-the-election-campaign-111254