Immigrants set up business to give back and create The WOODLE
Written by

Tess Sanders Lazarus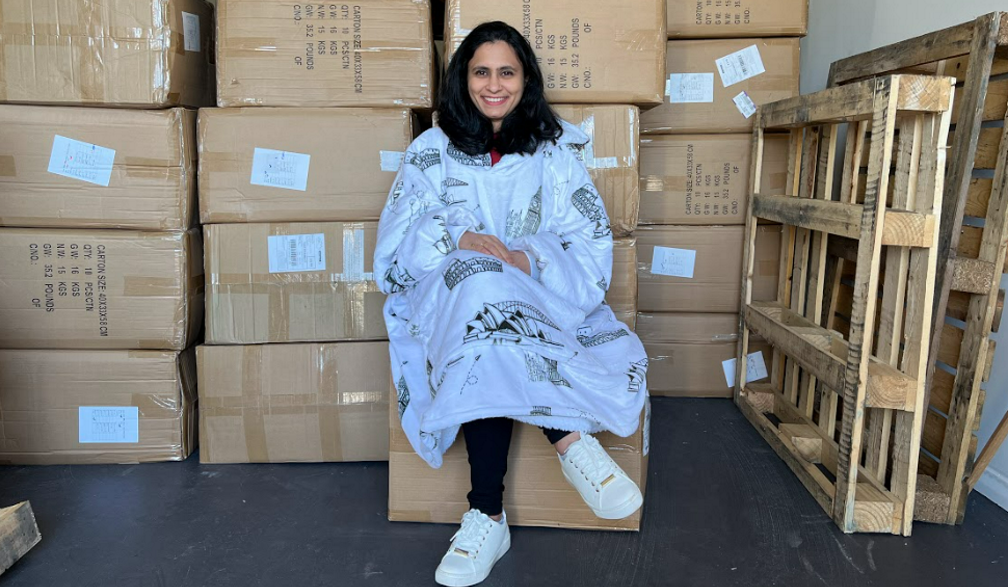 Immigrants Keets and Rohit Sharma arrived in Australia from India about four years ago and from the day they stepped foot in Australia, they knew they wanted to do whatever they could to make a new life for themselves, but didn't want to forget their humble beginnings. And so they did, they created the 'Woodle', Australia's homegrown loungewear brand that is inspired by the community.
According to Keets Sharma, cofounder of the business, aptly named The Woodle, the business has taken off and is now getting requests for all types of Woodles, their warm comfortable hooded blankets, from retailers and customers.
"We are so overwhelmed with the support we have received. It is fantastic. We involved everyone close to us in the design and planning for the Woodle to ensure we nailed the concept," Ms Sharma said.
"We started with the idea of a hooded wearable blanket and took it up a notch with what are the values that are really close to people's hearts.
"We also created a mix of fantastic designs to ensure that we had the right balance of colourful patterns and messaging on our Woodles. We worked hard on our designs to ensure they reflect the diversity of our community. In our first launch, we have created a collection celebrating the Pride community.  Each launch will have a collection focussing on the people and community that have supported us in this journey.
"Our 'Love is Love' Woodle is one of our most popular products. Our kid's dinosaur themed Woodle is also a big seller. We have lots of designs for everyone and every type of personality."
Since launching the business in June 2022, Keets has had to move quickly to scale up and ensure the business is capable of coping with the increasing demand. Her skills as a chartered accountant and a lawyer have helped her to ensure the business is well set up and managing the fast growing operations.
"We are so excited and grateful to everyone for the amazing response we are receiving," Ms Sharma added.
"We put a lot of time into the design and creation of the Woodle. We offer standard Woodles and WoodleAir.
"The Woodle wearable blanket is much larger than a basic hoodie and is as comfortable as a weighted blanket. It is made with plush Sherpa wool and flannel fleece giving wearers the snuggest warmest bear hug experience. They also include kangaroo pockets for carrying around important things such as snacks for movie night.
"The WoodleAir is a slightly lighter version without the Sherpa wool. With fleece only, the WoodleAir provides comfort and warmth for days and nights when it is slightly cool. It also includes the kangaroo pockets.
"Woodles are packaged in environment-friendly canvas bags which are also great for storing the Woodle. The packaging is either compostable or recyclable making sure that The Woodle is a sustainable brand."
The business has also established a strong give-back ethos. Apart from their community-focussed designs, it has already established a formal partnership with Pratham, a large not for profit which supports the delivery of education to underprivileged children. The business is also looking at partnerships with other not for profits.
"When we moved to Australia, I never thought we would become entrepreneurs but the country has a strong entrepreneurial spirit about it. If you work hard and pursue your passion, you can succeed and fulfil your dreams here," Ms Sharma said.
"We are looking forward to growing the business and expanding our range of products. We would like to become a global brand, and for the Woodle to become an Australian success story. We are proud of our journey so far and we are excited for what we're going to achieve."
About Woodle
Woodle is an Australian business that produces the Woodle and WoodleAir. A Woodle is a wearable blanket with a hoodie and pockets that provides year-round warmth and comfort. The Woodle includes plush Sherpa wool and flannel fleece. The WoodleAir is lighter version consisting of flannel fleece only. Based in Sydney, Australia, Woodle was founded by Keets and Rohit Sharma.