Written by Business Daily Media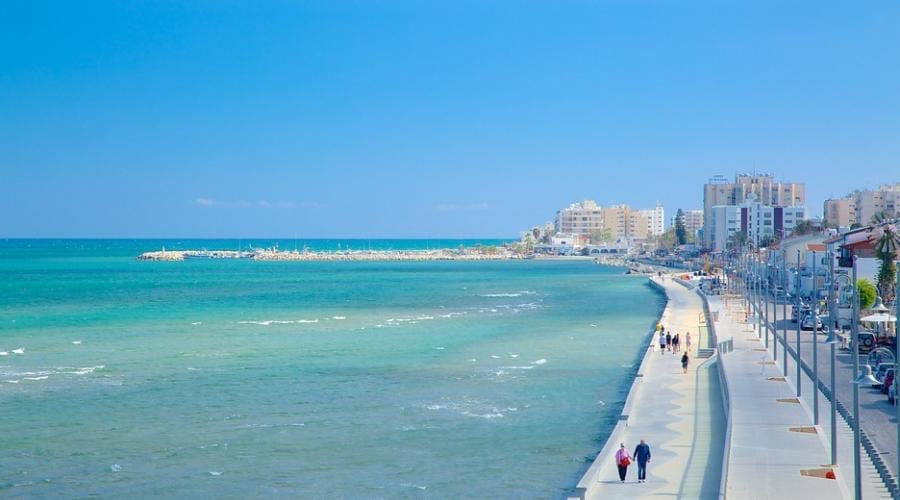 Larnaca is one of the oldest cities in the southeast of Cyprus. Nevertheless, it remains a modern resort that attracts tourists with its beautiful nature and beaches. On the sunny coastlines, you can not only relax and sunbathe but also engage in various activities and enjoy gastronomy. In this article, we will talk about the most popular beaches in the city that everyone who is heading to Cyprus should visit.
Finikoudes Beach is a popular spot on the eastern coast of Cyprus, near Protaras. It is located 55 km away from Larnaca, so the quickest way to get there is by car. Finikoudes captivates with its crystal-clear water and sandy beach, which offers plenty of amenities, including sunbeds and umbrellas. For those who don't just want to lie down, the beach provides entertainment options such as water parks, golf clubs, tennis courts, SPA centers, and water sports. Families with children often come here because of the fine sand and gradual entry into the water.
On the southern coast, there is Mackenzie Beach, the second most popular beach in Cyprus. It is located near the airport, allowing you to witness the landing of airplanes and capture unique photos against their backdrop. Mackenzie stretches for about 1.5 km and is lined with numerous restaurants, cafes, and bars. On the beach, you will find rental companies offering equipment for windsurfing, kitesurfing, and diving.
Larnaca-Kastella-Beach is located near Larnaca Castle, built in 1625 by Turkish invaders. This beach is quite popular among tourists due to its proximity to the city's historical landmarks. When you come here, you won't be able to take your eyes off the fine golden sand, perfect for relaxation and sunbathing. The beach offers a variety of sunbeds and umbrellas, several cafes and restaurants, as well as souvenir shops.
Fig Tree Bay is located between the towns of Protaras and Ayia Napa, so it is best to get there by car. Take advantage of the car rental in Larnaca, which is well-developed in Cyprus. Fig Tree Bay is a small but very picturesque beach. It is chosen by those who seek attractive nature and a peaceful atmosphere in one place. You can engage in windsurfing, kiteboarding, diving, and snorkeling at the beach. Moreover, interesting attractions, including Ayia Napa Monastery and Cyprus Folk Art Museum, are located near Fig Tree Bay.
Faros Beach is located in the village of Pervolia, in the Larnaca District. It is a secluded beach with fine, clean sand, crystal-clear water, and plenty of amenities for a peaceful retreat. The beach is surrounded by tall cliffs that create a sense of seclusion and attract visitors with their unique natural environment. There are no cafes or restaurants directly on Faros Beach, so it is recommended to bring drinking water and food. However, there are shower facilities and toilets available, allowing you to enjoy your leisure time with comfort.
Larnaca Bay is one of the most popular beaches in Larnaca, thanks to its proximity to the city center and developed infrastructure. It is a great place for people who are looking for ample space for sunbathing and swimming. Here, you'll find fine sand and warm sea with a gradually deepening bottom. The beach offers all the amenities for relaxation, including sunbeds, umbrellas, changing rooms, toilets, and showers. Tourists also love Larnaca Bay for the opportunity to engage in various activities such as water skiing, kite surfing, diving, and snorkeling. Not far from the beach, you can find the Church of St. Lazarus, Larnaca Medieval Castle, and the Museum of Mediterranean Culture.
It's no wonder that Larnaca's beaches are loved by all travelers. It is a wonderful place for relaxation and unwinding. Moreover, the city has an ancient history, as evidenced by its landmarks. Larnaca is located on the southern coast of Cyprus and has excellent transportation connections to all regions of the island. Most beaches are easily accessible by rental cars. Regardless of which one you choose, make sure to enjoy the crystal-clear water and beautiful nature.


How to find the time to see all the beaches of Larnaca


There are officially recognized beaches in the city, about 25 in total, but there are also unofficial spots that are not included in the lists. The beaches of Larnaca are diverse and suitable for different types of leisure. Some of them are located within the city limits, while others are a few kilometers away from the center. If you want to visit the majority of beaches in Larnaca, follow our advice:
Make a list
The first step will be to compile a list of all the beaches you want to visit. We recommend starting with those located near the city center - Mackenzie, Larnaca Bay, and Larnaca Kastella Beach. Then you can continue your trip by car to the beaches on the outskirts of Larnaca and beyond, such as Pernera Beach and Finikoudes. Be sure to check the availability of the beaches, as some of them may be closed during certain times of the year or for other reasons.
Rent a car
This will be the most convenient option as the beaches are not within walking distance of each other. With a rented car, you'll be able to not only move quickly between beaches but also make a stop somewhere outside the city for a picnic or take beautiful photos at any time. Cars in Larnaca can be rented on the website of LocalCarRent. This is much more convenient than using a bus and will save you money compared to calling a taxi service.
Plan your route
The most important thing in wanting to see all the beaches in Larnaca is to make the most efficient use of your time. Determine the order in which you will visit the beaches and try to choose places that are close to each other to minimize travel time. And if you rent a car, you can quickly reach even the beaches located far from the city without wasting precious time.
Remember to preserve nature
Ecology plays an important role on the beaches of Larnaca. Remember that you are in a beautiful and vulnerable natural environment. Maintain cleanliness and do not disturb the local ecosystems: do not pick flowers and other plants, and do not leave your trash on the beach. Also, avoid activities that could harm the island's flora and fauna, such as hunting, fishing, and the use of motorboats.
Enjoy
The beaches of Larnaca are incredibly beautiful. Don't chase quantity; instead, enjoy each beach, as each has its unique view and atmosphere. If you prefer tranquility, choose the shoulder seasons, as during the peak season (July-August), the beaches can be quite crowded and noisy. Pay attention to the weather: in the hot months, temperatures can reach 40°C, which can be too intense for some travelers.
Overall, a trip to the beaches of Larnaca will be an excellent journey for tourists seeking beautiful places and nature. The presence of cafes and restaurants on most beaches will allow you to try local Cypriot cuisine and learn more about the island's culture. If you plan your route properly and rent a car, you can manage to see all of Larnaca's beaches. However, we advise against rushing—instead, savor the beauty of the beaches in this magnificent city!