Brisbane is the most affordable travel destination in Australia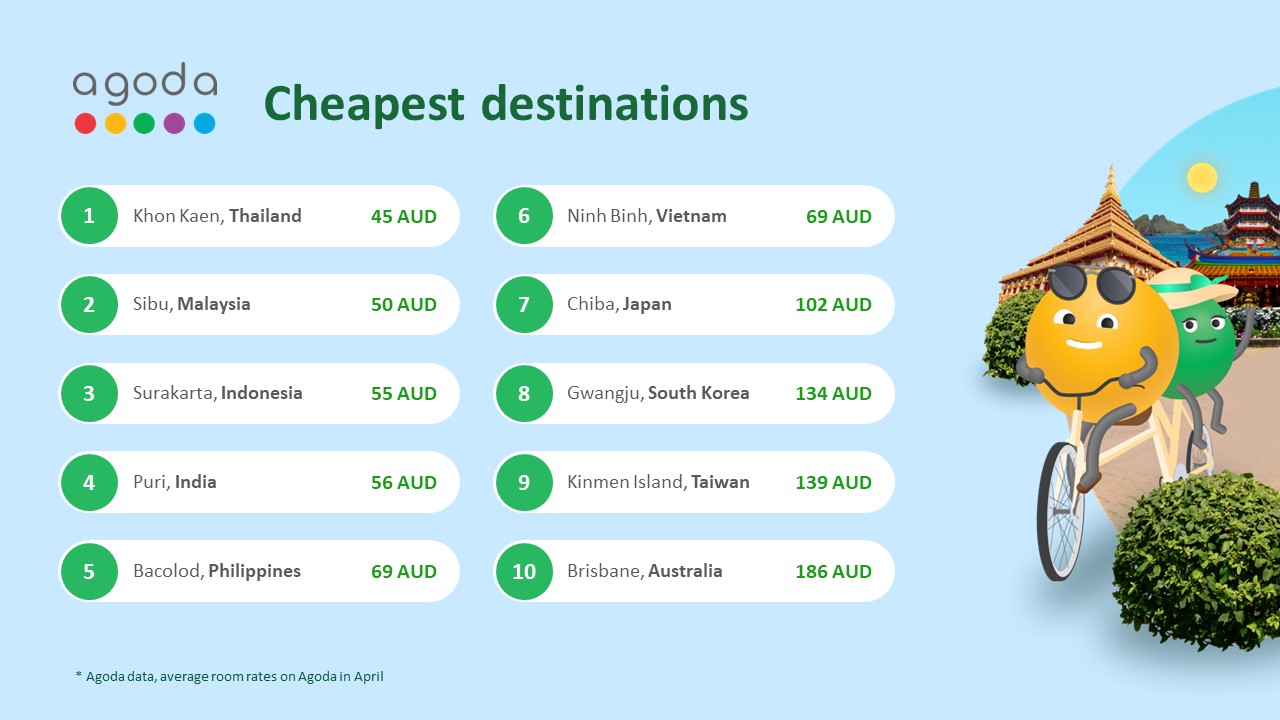 With Aussies looking forward to long weekends and easter holidays in the coming weeks, price-savvy travelers will be happy to learn that Agoda crunched the numbers to reveal the tourist destinations with the cheapest average accommodations. Brisbane is Australia's most affordable destination where travelers can enjoy the most competitive room rates this month.
Because of Agoda's passion for getting travelers the best possible deals and most competitive prices, the digital travel platform analyzed the average room rates of tourist destinations in April. In Australia, Brisbane is the most affordable tourist destination, with an average room rate of $186 a night. Also in Australia's top 5 are Cairns ($187), Melbourne ($205), Hobart ($218) and Perth ($234) respectively.
For Aussies heading overseas these holidays, the destinations with the cheapest average accommodation rates across the APAC region are Khon Kaen in Thailand, Sibu in Malaysia, Surakarta in Indonesia, Puri in India, Bacolod in Philippines, Ninh Binh in Vietnam, Chiba in Japan, Gwangju in South Korea and Kinmen Islands in Taiwan.
"With 2023 already well underway and public holidays coming up in numerous regions, many of us are looking for a well-deserved break" said Zsuzsanna Janos, Country Director Oceania at Agoda. "But at the same time, with cost of living in the daily news across the globe, we're all trying to be smart about how to spend our hard-earned cash. I'm hopeful that these Agoda findings will help travelers discover some exciting destinations and save money along the way."
Despite being the lowest priced tourist destinations, the researched locations have lots to offer to visitors and are nothing short of hidden gems. From bustling beaches and thrilling theme parks to spiritual sanctuaries and foodie Valhalla's.