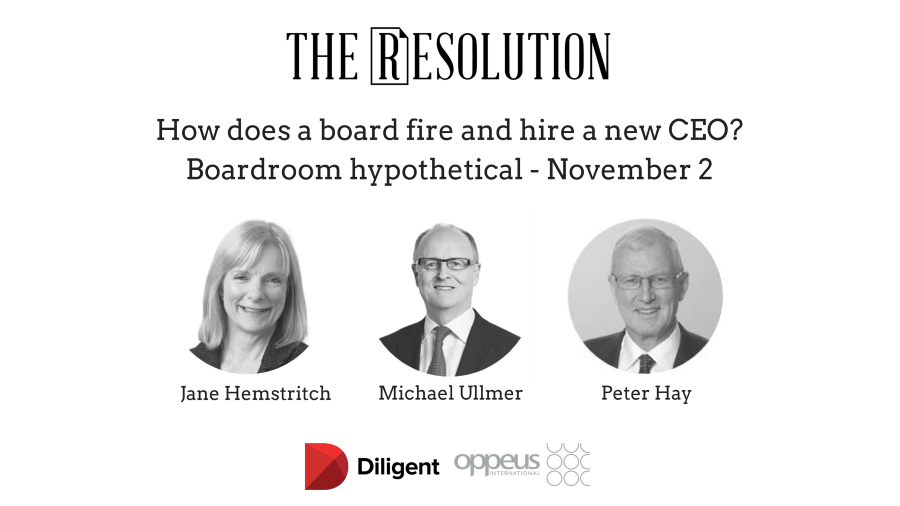 Jane Hemstritch, Michael Ullmer and Peter Hay will demonstrate their skills and share their experience with the Australian board member community on November 2, 2017
MELBOURNE, AUSTRALIA – October 19, 2017 – Much has been written about the extravagant payouts and colossal long-term incentives provided to CEOs upon leaving their organisations. The Resolution is hosting a hypothetical Board Meeting event on November 2, designed specifically to explore the complexity and sensitivity of hiring and firing a CEO in today's environment.
The second event in the Resolution event series, 'Hiring and Firing a CEO' will present a powerful hypothetical where the Resolution Board – featuring three of Australia's more experienced and admired board members, Jane Hemstritch, Michael Ullmer and Peter Hay - will meet to finalise the termination of their CEO and then in a second board meeting they will proceed in appointing the replacement.
Michael Ulmer (Non-Executive Director at Woolworths and Lendlease) said of this event, "A lot of people don't really understand what non-executives do on a board. I'm excited about any opportunity to help aspiring directors and the general public better understand what really goes on behind the closed doors of the boardroom."
Jane Hemstritch (Non-Executive Director at Telstra and Lendlease) noted, "I've been involved in quite a few CEO turnovers. Sometimes they've been beautifully planned and it all rolls like clockwork. But then you've got the situation where someone needs to fall on their sword, and nobody likes those kind of situations. They are emotional, difficult situations. In this session we're trying to help people and give them some tools for working through the process."
Peter Hay (Chairman at Newcrest Mining and Vicinity Centres) added, "The primary job of boards is to employ the right CEO and monitor their performance. This topic is right in the sweet spot of what boards should be thinking about. It doesn't happen that often but when it does it's always a material issue."


Russell Yardley, Founder of The Resolution noted, "It is often said that the most important job of any board is to hire and fire the CEO, yet many board members faced with this task have not experienced this process."
Registered attendees will receive the board papers prior to the event and are then encouraged to submit questions - as members of the Nominations and Remunerations Committee – in order that questions can then be considered by the board and explored in detail during the Boardroom hypothetical.

"This will be a great real life environment to help educate people as to how boards function. I'm excited to participate in what will be an innovative learning experience," Peter Hay concluded.


About The Resolution:
Being a director is a difficult and ever-changing job. The role is by its very nature challenging. Yet the professional development resources that help directors too often lack context, authenticity and practicality. The Resolution was established is to introduce a higher quality of resources that truly help company directors to resolve the complex array of issues they confront.
About the event:

The Resolution event series format focuses on a hypothetical boardroom challenge – allowing everyone in the room to experience how highly credentialed board directors work together to decide how to address the issue at hand, in this instance, that of a non-performing CEO. As part of this boardroom hypothetical, everyone in the room will be invited to ask questions of both the board and the expert panel, thereby enabling in-depth discussion in relation to this critical issue to explore the broader implications of replacing a CEO.