Shipping Containers – To Buy or Hire?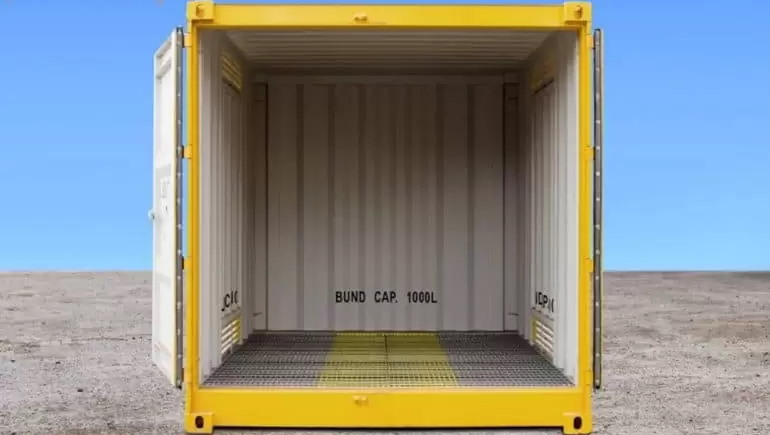 When you are trying to decide whether to rent or buy a shipping container you need to be informed about your options before you make a decision. You may wonder if you should rent or buy the container and what the pros and cons are. There are good reasons to purchase and there are also good reasons to hire.
When you purchase a shipping container there are many great reasons for the purchase. One of the main reasons that purchasing is a great option is because you can have the container customized to suit your needs. Hiring a container means that you have more options when it comes to the size of the container or different grades of shipping containers. Apart from this, you can check this site for a variety of shipping container homes.
Hiring Shipping Containers
When you hire a shipping container you can use it for any number of reasons and purposes. Often it is difficult to assess the size that you will need before you actually see the container up close and in person. Once the container is delivered you can see it and know whether or not it will meet your needs.
Shipping containers are available in many different sizes to you can usually find a container to suit your needs. If you hire a container and it arrives and you decide you need a different size, it is never too late to send that container back and then request a different size. If you hire a container and keep it for the rental term and then when the term ends, you can renew it or not, depending on your needs.
Some people will hire a container for a short time to see if it is useful for their needs. Once they decide that the container is something that they need for the long term, they can then purchase a container to save money in the future. If the need is only for a short term, then hiring a container is a better idea because the term will end and then the container can be returned to the company that supplied it.
Multiple sizes of containers are generally available with many different needs for all of the different sizes. It is easy to hire a container and have it delivered quite quickly. Many people have a wide range of uses lined up for their container and some have specific needs for the container. If you plan to hire a container but are uncertain as to the size you need and how large the container is that you will be hiring, you can arrange to examine the different sizes of containers at a shipping container lot before you commit to a contract.
If you are certain about the size of the container that you wish to hire and want to save money in the long run, it may be a good idea to sign a longer term of contract to pay less.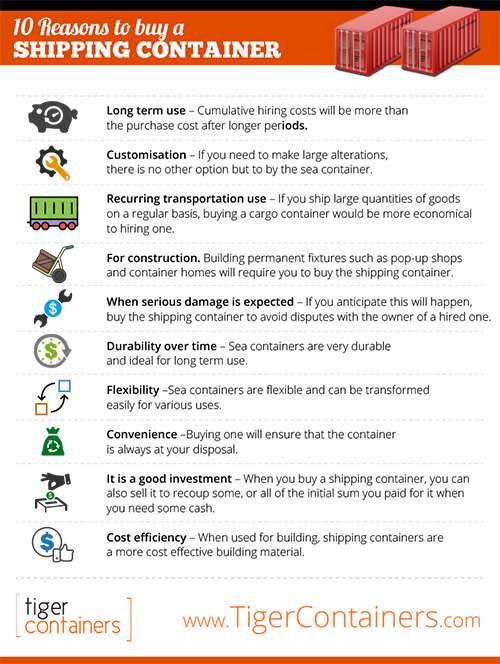 Buying a Shipping Container


As mentioned, when you purchase a shipping container, you can have it customized to your specific needs. There are many different add-ons that you can request so that the container is ready to use once delivered. You will have the ability to complete the interior with these simple customizations in place. If you have a business or some specific need for storage, buying a container can be the right option for you.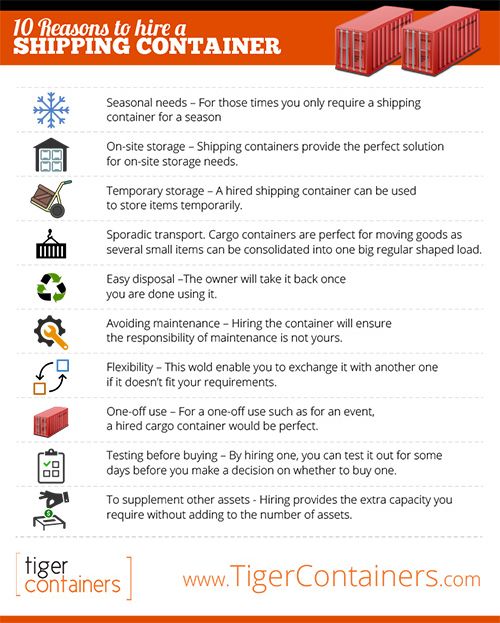 What are Some Other Benefits to Buying Shipping Containers?
Purchasing a shipping container means that the container will be shipped to your location if requested. If you hire a container, it will be delivered and retrieved from the location that you specify at the end of your rental period. Shipping containers do not decrease in value if they are cared for. You can purchase the shipping container and then sell it later if you decide you no longer need it. The price you sell the container for will be comparable to the price you paid for the container.
Some container rental companies will allow you to purchase the container you are hiring if you decide that you would rather own the container than hire it. The period that you hire the container for can be a trial of sorts so that you can make an assessment of the size and the specifications of the container as well as the modifications that you would like to include. Once you decide that the shipping container should be a permanent fixture on your property, converting your hiring contract to a purchase should not be that difficult.
If you need assistance in deciding whether to hire or purchase, you should get in touch with a company that specializes in dealing with shipping containers. They will be able to help you to make a decision on whether you should hire or buy a container.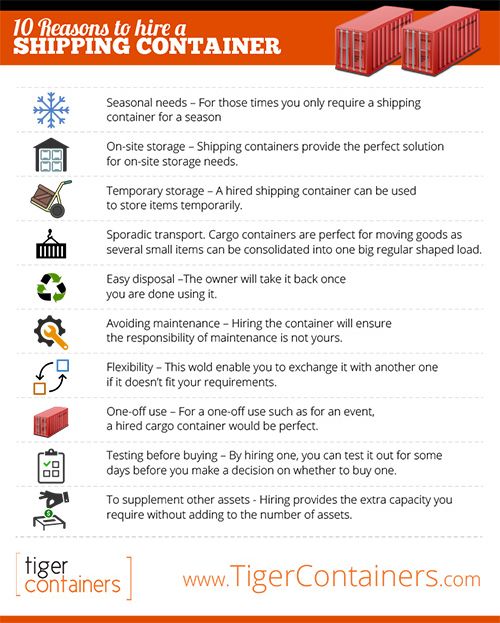 Images from Tiger Containers