Fight or flight: Iconic WA airline does both to soar during COVID
Written by

Tess Sanders Lazarus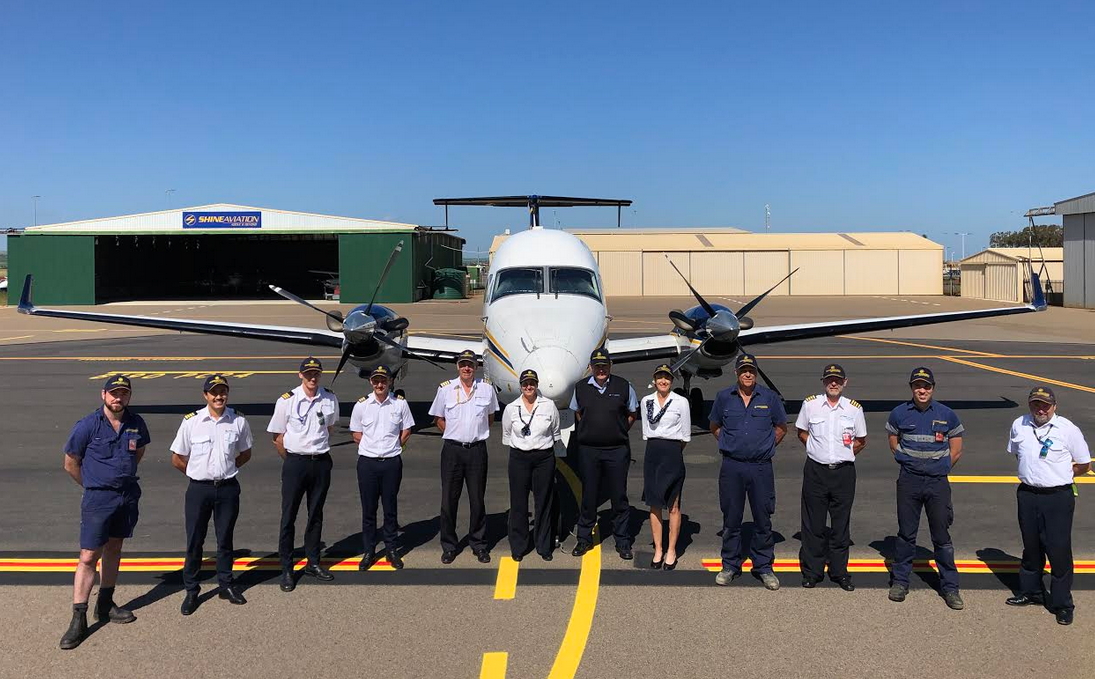 While airlines across the world and around Australia find their businesses operating at significantly reduced capacity due to COVID, one humble airline in Western Australia is bucking the trend.
Shine Aviation, based north of Perth in the coastal city of Geraldton, is experiencing continued demand for its services.
Shine Aviation, managing director, John Gooch, today said, "There is no doubt that COVID is throwing everything at us, but we've got a great team that is passionate about what we do and the services we provide, and this is providing the energy and determination to get through the pandemic despite the current challenges."
John and his team of over 20 consisting of pilots, aircraft engineers, and customer service officers, deliver a range of key services across the region including: contract flights for the mining and government sectors, charter flights, scenic flights, pilot training programs and aircraft maintenance services. With a fleet of 16 aircraft able to carry between five and 19 passengers, Shine Aviation is ideally positioned to meet the needs of its diverse market with ease.
"Shine Aviation has been operating for nearly 40 years in the region and as a result, has built up a great reputation for professionalism, safety and quality," John said.
"This has certainly helped. In the face of current market challenges, we have increased our focus on digital marketing, in particular social media, and recently incorporated public relations into the mix. We offer a broad range of scenic flight packages to suit everyone's needs. We have also discounted some packages to make some of our flight options more accessible and appealing to tourists.
"People can now buy vouchers from us for our tours that are valid for up to three years. Let's hope COVID is well and truly gone by then, but it gives our valued customers peace of mind and flexibility when purchasing and planning their trip.
"We have also experienced an uptick in interest for our flight training courses which we believe are among the most competitive in the market. These are ideal for anyone interested in upskilling or exploring a career in flying to get a feel for it. We do see the aviation sector picking back up post COVID and Australian pilots are considered the best the world."
Shine Aviation has moved quickly to offer discounted scenic flight packages for those seeking to take advantage of border closures and experience some of WA's stunning scenery, spectacular coastline and legendary sites. Packages include scenic flights to the Abrolhos Islands, the Pink Lake, Murchison Gorge and more. Options vary involving tours, morning tea, lunch and more – all of which can be purchased through Shine Aviation.
"With borders closed, Western Australians are traveling and they are coming to places like Geraldton. While our mining and government work is continuing, healthy tourism demand is helping to keep us busy and our pilots in the air," John added.
"There is no doubt that many Aussies will spend their holidays traveling around Australia over the next 12 months and this can only be good for regional areas like us.
"Cities like Geraldton have a lot to offer. Our restaurants and cafes are great, our coastline is stunning, and there is so much to do and see."
Shine Aviation is located at Geraldton Airport, Airport Road, Geraldton. The Shine Aviation terminal includes displays of local craft and art work and offers complimentary WIFI.