Top 5 Aussie holiday destinations that must be on your bucket list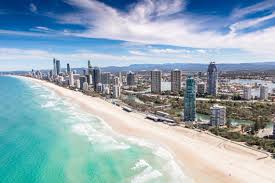 Arguably one of the most varied and beautiful countries in the world, Australia is a very popular tourist destination. However, if you don't know a whole lot about Australia and its most popular touristy spots (even if you are an Aussie), then do not fret. This article will provide everything you need to know about the must-see places scattered across the huge Australian landscape.


The Great Barrier Reef, Queensland
Though some would dispute it, The Great Barrier Reef is probably Australia's most renowned tourist destination. Listed as one of the seven natural wonders of the world, Australia's most prized natural resource has contributed over $6.4 billion AU to the Australian economy, sees over 2 million tourists every year and has supported over 64 000 Australian jobs. It's not just a natural Australian icon and destination, it's a crucial cog in Australia's future economic prosperity. On top of this, it is the largest living structure on the planet and could cover over 70 million football fields! Wings Airlie Beach Cruises advises that due to its size it can be visited from a number of locations along the coast making it easily accessible for tourist and great for the local towns that benefit from the tourism.


Uluru, Northern Territory
Uluru, also known as Ayers Rock, is in the southern part of the Northern Territory. Unlike the congested cities of the Northern Hemisphere, Uluru is located a massive 335km south west of its closest town, Alice Springs.
This large, sandstone rock formation has extensive significance with the Aboriginal people and is sacred to the Pitjantjatjara Anangu groups. However, if you are planning on visiting Uluru, you should be aware that a ban is set to come into effect on 26 October 2019. This ban will prohibit people from climbing the rock, which has been a massive tourist activity for many years. The reasons for the change can be attributed to the site's spiritual significance to the Indigenous people and the fact that the climb has become more dangerous in recent years. If you are desperate to climb Uluru, get in quickly before the ban prohibits it! More daily news is available here.


Kangaroo Island, South Australia
Lying approximately 112km south west of Adelaide, Kangaroo Island is Australia's third-largest island. One of South Australia's most popular tourist destinations, the island attracts over 140 000 visitors every year! More than a quarter of these visitors are from Europe.
Most tourists visit the island to see the following:
Kelly Hill Caves

Flinders Chase National Park

Seal Bay Conservation Park
The Seal Bay Conservation Park runs guided tours, where tourists can observe Australian sea lions. Kelly Hill Caves is a series of caves located on the island and is a protected area in South Australia.


The Great Ocean Road, Victoria
The Great Ocean Road is a 243km stretch of road that runs through the state of Victoria. Most of the road hugs the coastline, meaning walkers/drivers often have great views along the way. The massive road was built over a period of 13 years, between 1919 and 1932. It is dedicated to the soldiers who passed away in the First World War, and as a result, is the world's largest dedicated war memorial.
The road is also host to some notable cycling events, including The Cadel Evans Great Ocean Road Race, which began in 2015. Initially designed to be a farewell race to Evans, Australia's only Tour de France winner, it was so popular that it has since become an annual fixture. The men's race is 174km, where as the women's race is 113km.


The Opera House, New South Wales
One of the most iconic multi-performance venues, The Opera House is located on the Sydney Harbour and is one of the world's most distinctive buildings. Construction began in 1959 and the site was not formally opened until 20 October 1973. It was declared a World Heritage Site on 28 June 2007 and hosts over 1 500 performances every year. More than 350 000 people visit The Sydney Opera House on a guided tour. Given its heritage listing, most areas in and around the Opera House are non-smoking. However, if you need a quick vape or some new materials for your habit, you are allowed to as long as you're at least 4 metres away from the Box Office Entrance.


Conclusion
So, if you're considering a trip Down Under, be sure to check out some of these amazing tourist attractions during your trip!