The path to health in business – the CEO of GoodnessMe Box shares her journey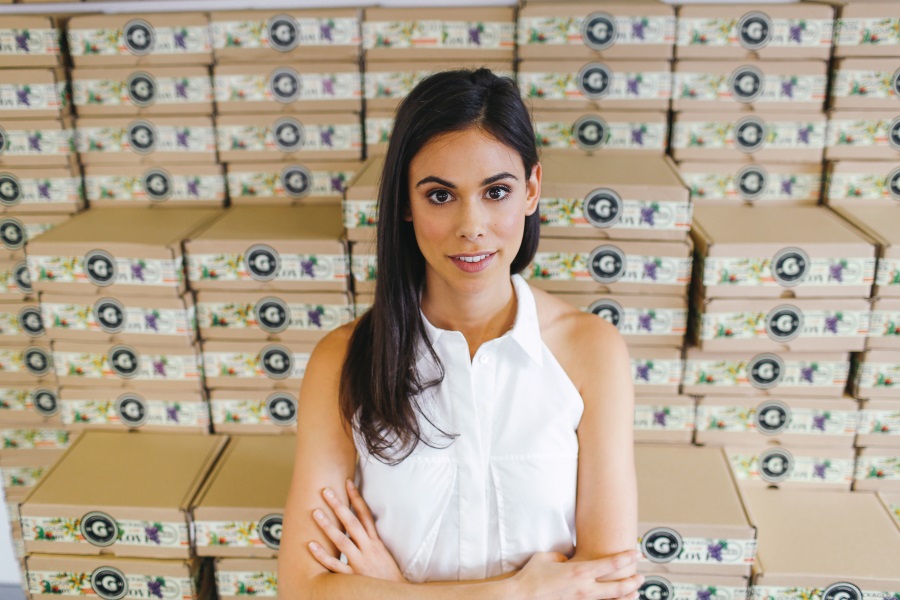 Peta Shulman is the founder and director of GoodnessMe Box, Australia's largest health food sampling service. Backed by industry knowledge and personal experience, she launched the start-up in mid-2014 with a clear mission in mind: to help people to take control of their health and get excited about eating clean, nourishing wholefoods. They were listening. She turned over $1 million in the first year of trading.
Fast-forward to today, and GoodnessMe Box has sampled over 1.8 million products and Shulman is an entrepreneurial success story. In 2015, she was a finalist for The League of Extraordinary Women's Young Female Entrepreneur of the Year, and in 2018, she was listed in Smart Company's Smart 30 Under 30 list, which shines a spotlight on Australian entrepreneurs who are redefining what it means to build a successful business.
Her business is about health, and so is her business strategy.
How she got into the health industry
When Shulman was 24, she was diagnosed with an autoimmune condition. In many ways, it was a relief to have a diagnosis. For years, she'd suffered from fatigue, headaches and body aches, and ended up on bed rest for three months – which was devastating for someone so young. Her immune system was shot, and her energy was non-existent.
The doctors told Shulman she'd have to go into the hospital every month for antibody transfusions.
She didn't want to rely on treatment for the rest of her life. Desperate to feel better, she started researching other ways to manage her condition.
"I threw myself into the research, and began learning about the benefits of wholefoods," Shulman said.
With her doctor's guidance, she cleaned up her diet. She eliminated artificial, processed and inflammatory foods, and focused on eating foods that were as close to their natural state as possible.
The change was incredible.
"I felt the difference within just a few months. I was a new person. My energy, mood and digestion improved drastically, and after 6 months, I was no longer catching every single cold that went around. I was able to enjoy my life again," Shulman said.
While she was learning about health and nutrition, she found a new hobby: finding and testing wholefood products.
"I'd call it an obsession!" she said. "I discovered so many amazing products that aligned with my new wholefood lifestyle, and I knew I had to share them."
"If they helped me in such a significant way, they could help so many others."  
At the time, Shulman was working in PR for clients in the wellness industry. She spent her days promoting brands with the feel-good factor, and the idea for a subscription box sprung to mind.
"I was confident. Thanks to my background in publicity in the health industry, I knew the idea had potential, and my own experience showed me the effectiveness of wholefoods," she said.
"I thought, 'why not combine something I'm passionate about with something I'm good at?'"
The launch of GoodnessMe Box
After 6 months of research and development, Shulman ventured off on her own and launched GoodnessMe Box. Each box contained 7-10 health food products and recipe ideas, and was delivered to customers' doors once a month.
The standards were stringent.
"Every product that makes it into the box has to be minimally processed and free from artificial sweeteners, preservatives, colours, food additives, synthetic trans fats, MSG, GMO and HFCS," she said.
The team only partners with brands that leave a positive footprint on the planet.
"Our motto is 'food with integrity,' and we choose to work with brands that follow ethical trade and manufacturing processes."
Through GoodnessMe Box, Shulman's trying to teach people that healthy eating is accessible, easy, and delicious.
"Healthy eating is a lifestyle – and a fun one! It shouldn't be a chore," Shulman said.
"My dream is to live in a world where the food we eat is free from artificial and processed ingredients. We're doing our bit to educate people and build a community around healthy eating."
Since launching in 2014, the team has worked with over 600 companies.
The company has evolved to host small-and-large scale events, such as the GoodnessMe Box Wholefood Night Markets, and offer data insights and marketing services to its brand partners.
Last year, it launched an online shop.
"The GoodnessMe Box online shop is stocked with 'hard-to-find' health products that are not only tailored to dietary requirements, but also meet our high standards. We've curated a collection of products that our customers love and are not easily accessible in-store," Shulman said.
In February 2019, GoodnessMe Box is releasing a kids box.
"A large percentage of our customers are mums, and a significant pain-point for them is finding healthy and convenient snacks for their kids. Our new kids box is designed to address this problem while making wholefood eating fun for the entire family!"
How health drives her business
Health is the driving force behind GoodnessMe Box. For Shulman, it's the measure of its success.
"A business has to make money to succeed in the traditional sense, but it also has to grow while staying true to its purpose."
She advises entrepreneurs to ask themselves: "What's your why?"
"For GoodnessMe Box, it's to make a profound difference to peoples' health by changing their food choices for the better. I never want anyone to go through what I did with my autoimmune condition if something as simple as food can help," she said.
"The feedback I get from customers is my motivation. It's amazing to be able to affect people's lives in a positive way, and I never lose sight of that."
Health influences the business indirectly, too.
Shulman is committed to creating a healthy working environment. She prioritises her health and wellbeing, and that of her team. She says it has a domino effect on the business.
"For a business to be successful, it needs healthy, happy employees," she said.
"When your employees are healthy and feel supported, they're more productive. They want to be at work, and they're likely to be loyal to the company."
"Every Tuesday, we head outside and workout on the grass together following an online fitness program."
Personally, Shulman has a few non-negotiables. These include establishing a healthy morning routine, moving her body most days, and getting a full night's sleep.
What she's learnt as an entrepreneur
Shulman has helped to bring the wellness movement into the mainstream – first in her PR role, and then when she launched GoodnessMe Box 5 years ago. In that time, she's watched the industry grow and flourish.
She's learnt the value in building a network of like-minded entrepreneurs.
"My advice to anyone who wants to enter the industry is this: network, network and network some more. The health and wellness industry is incredibly open and giving, and we feed off each other's success. When a company thrives, it grows the market for all of us," she said.
As an entrepreneur who launched a business in the social media age, she also realised how important it is to nurture a passionate community.
"Word of mouth is so powerful. From the get-go, our community has been highly engaged. They did the marketing for us – and continue to do that today," she said.
The engagement works both ways.
"It's cost-effective and creates credibility, so we're always tuning into our audience and responding to their questions and needs."