The Fascinating World of Farms for Sale
Written by

NewsServices.com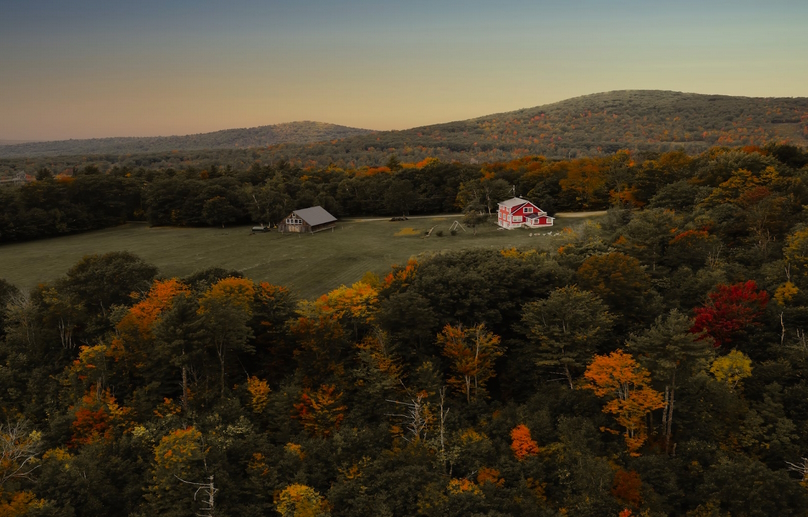 Benefits of Owning a Farm
When many people think of the benefits of owning a farm, they immediately think of fresh food, open spaces and a picturesque view. While these are all great benefits to owning a farm, there is so much more to it than just that. Farms offer multiple opportunities for financial stability, environmental stewardship and community involvement in ways that most other types of businesses do not.
Financial Stability: Owning a farm can bring financial stability to landowners as it offers multiple revenue streams from farming activities like crop production and livestock management. These activities allow owners to generate income from the sale or lease of land for agricultural purposes or through direct sales at farmers' markets or other outlets. It also enables landowners to diversify their income streams by adding value-added products such as jams and jellies, canned goods, eggs etc… Additionally, government programs exist that offer funding opportunities for those looking to start a farm or expand their existing one.
Environmental Stewardship: Farms are often viewed as an important part of environmental stewardship because they provide natural habitats for wildlife while also playing an integral role in carbon sequestration (the process by which carbon dioxide is removed from the atmosphere).
Types of Farms for Sale
Farm for sale come in a variety of shapes and sizes, depending on what you're looking for in a piece of property. Whether you're looking to start an agricultural business or simply want to own a piece of rural land, there are many types of farms available for purchase. From small hobby farms to sprawling acreages, here are some of the most common types of farms for sale.
Hobby Farm:

A hobby farm is usually between five and 40 acres and is often used as an escape from the hustle and bustle of urban life. Hobby farmers typically raise animals, produce crops like vegetables or hay, and may even keep bees or have chickens as part of their operations. These smaller-scale operations don't typically generate income but provide fun ways to enjoy country living with family and friends.
Dairy Farm:

Dairy farming is one type that focuses on producing milk from cows (or other dairy animals) that can be sold directly to consumers or processed into products like cheese, yoghurt, ice cream, butter and more. Dairy farming requires specialized equipment such as milking machines along with barns for housing animals so this type often comes with existing infrastructure already in place which can help reduce startup costs.
Factors to Consider When Purchasing a Farm
If you are considering buying a farm, there are numerous factors to consider before making a purchase. Buying a farm is an important and potentially expensive investment, so it's important to research the property thoroughly before making any decisions. From the size of the land to potential zoning regulations, here are some key points to keep in mind when purchasing a farm.
Location:

The location of the farm is one of the most important things you should consider when looking for property to purchase. Take into account how far away it is from cities or major towns and whether it's located in an area with good access roads and infrastructure. You should also think about what type of climate and soil conditions exist in that region as this will affect what kind of crops or animals can be raised on your land.
Size:

The size of your prospective property will depend on what you plan on doing with it; if you want to raise livestock or grow crops, then larger properties may be necessary for their needs as well as offering more room for expansion in future years. On the other hand, if you want a smaller homestead then something smaller may be more suitable depending on your budget and needs.
Financing Options for Buying a Farm
Buying a farm is an exciting venture, but it can also be costly. Financing options are available to make the purchase more affordable. Whether you're looking to buy a small hobby farm or a large-scale agricultural operation, understanding the various financing options available will help make your dream of owning a farm come true.
The first option for financing the purchase of a farm is through traditional bank loans or mortgages. Most lenders require applicants to have good credit ratings and provide proof of the ability to pay back the loan over time. It's important for prospective buyers to research different loan rates and terms so they can find one that best fits their needs and budget.
An alternative option is government-backed loans from federal, state, or local agencies like USDA Farm Service Agency (FSA). These programs offer low-interest rates and long repayment terms for both beginning farmers as well as experienced growers looking to expand their operations. The FSA also offers special programs specifically designed for veterans who are interested in purchasing farmland.

Closing Thoughts
As the end of something draws near, it is important to take a moment to look back and reflect on what has been accomplished. Closing thoughts typically involve making sense of past events, reviewing lessons learned, and considering how the experience will shape one's future.
When looking back, it can be helpful to think about how far one has come since first beginning a project or journey. It is important to recognise any successes along the way and celebrate them accordingly. It is also beneficial to note any areas that could use improvement so that changes can be made in the future if desired.
It is equally important for an individual to review lessons learned throughout their experience. Whether these are related to personal growth such as learning more about oneself or skills acquired such as problem-solving techniques, taking time to note these will help with long-term success down the line in similar situations.
Finally, when closing out on something an individual needs to consider how this experience will shape their future endeavours. By reflecting on what worked well and what could have been done differently in hindsight, one can make better decisions moving forward with new projects or tasks that may arise later on down the road.