Mortgage aggregator is first to give brokers Open Banking access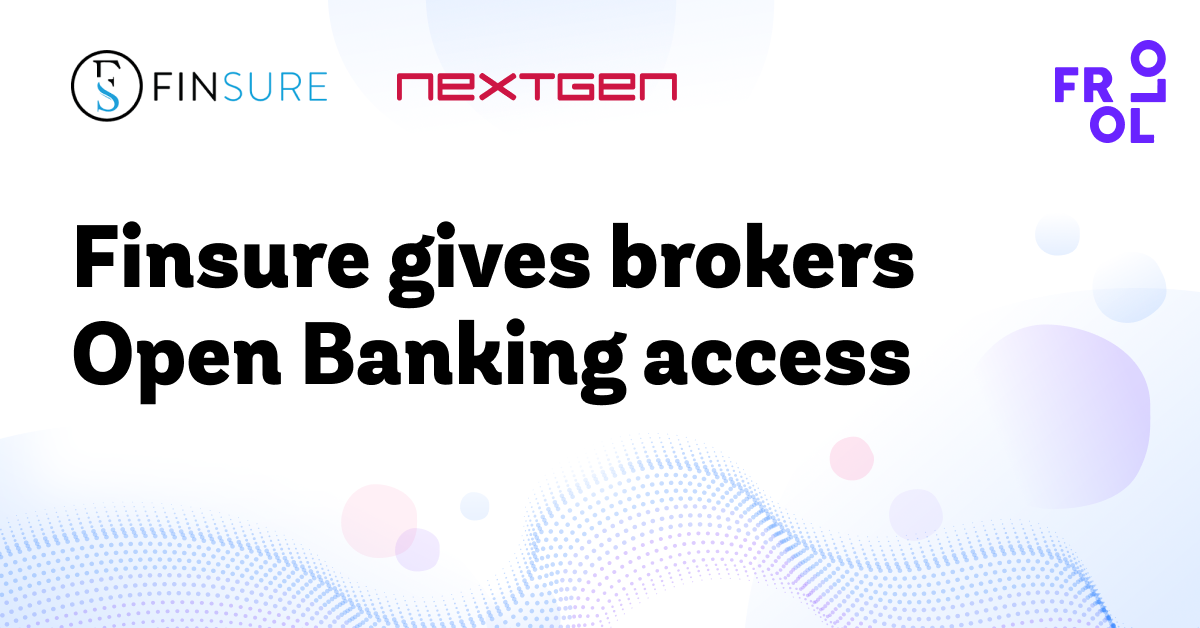 Finsure has partnered with Frollo and NextGen to use Open Banking data as part of the loan application process
Finsure has become the first Australian mortgage aggregator to turn on Open Banking access for its brokers. In a partnership with Open Banking provider Frollo and lending technology provider NextGen, Finsure now provides its brokers access to the Open Banking powered Financial Passport, to collect customer data for use in their loan application process. The solution is completely integrated into the broker workflow through NextGen's ApplyOnline, significantly reducing the time brokers spend on reconciliation and processing applications.
The Financial Passport provides Finsure brokers with a complete financial picture of their clients, using bank-verified data as a single source of truth. It includes a view of customers' income, expenses, assets and liabilities. For clients, using Open Banking data has the benefits of being more secure and providing better privacy protection than traditional alternatives.
Finsure mortgage brokers are the first to use the new Trusted Advisor model under the Consumer Data Right (CDR), providing selected professions, such as mortgage brokers, access to Open Banking data without additional accreditation. As one of Australia's largest mortgage aggregation groups, with over 2,500 brokers nationally, Finsure's launch demonstrates the enormous potential of the Trusted Advisor model to bring real productivity improvements and efficiency to the mortgage application process.
Finsure CEO Simon Bednar is excited about the benefits of Open Banking: "Open Banking solves the problem of data inconsistency and provides transparency across the entire applicant lifecycle. It allows Finsure to build into our CRM platform comprehensive data insight models, which will help brokers make more informed decisions. 
It also allows all parties in the transaction to rely on the same data set, greatly reducing rework and facilitating earlier decisions in the home loan process. By consuming Open Banking data, we can provide unique insights into customer behaviour, assisting brokers in making the right decisions."
The partnership between Finsure, Frollo and NextGen is the first example of how an end-to-end integrated solution can bring significant benefits to brokers and consumers. By directly integrating the Financial Passport in the existing broker workflow in NextGen's ApplyOnline platform, brokers can easily take advantage of the feature to streamline the mortgage application process for them and their customers.
Frollo CEO Tony Thrassis highlights the significance of this announcement: "The Trusted Advisor model might be the CDR access model with the most potential to drive Open Banking adoption in Australia. So, we're excited to be the first to integrate this new CDR model into a significant and meaningful customer journey for one of Australia's largest mortgage broker groups."
NextGen's Chief Customer Officer Tony Carn: "We saw the opportunity to streamline the mortgage application process with Open Banking data when we acquired Frollo two years ago. Since then, we have worked closely with the Frollo team to build a solution that helps brokers and lenders save time and deliver more value to their customers.
Today we're launching the Open Banking powered Financial Passport, with Finsure as our initial launch partner. As a leading mortgage aggregator and a true innovator, they bring the scale and expertise to make this a success. In the new year, all mortgage brokers will have access to this solution when using NextGen's ApplyOnline software. So as lenders start to accept open banking data, we are very excited about the opportunities ahead. "