Dr Warren Harmer: Pugs: What they can teach us about sales
Written by

Dr. Warren Harmer
I have 2 of the cutest housemates imaginable: pugs.
Ernie is a 2 year old fawn with a slightly anxious but very sweet personality. Frank is a 6 month old black boy with the personality of a toddler - cheeky, energetic and impossibly cute. A colleague once said to me that "children are the best sales people," well they have nothing on pugs. They get what they what, whether it's treats, worming their way onto the couch or getting up in the morning when they are ready. It's very hard to say no to them; in fact the pugs have a way of making you want to give them what they want.
How much easier would sales be if your prospects and clients wanted to give their business to you? For most small business owners who are extremely reluctant salespeople, this would be a dream. So here are some sales lessons that we can learn from my furry friends.
PERSISTENCE
My pugs are extremely patient in getting what they want. They sit and wait, just in the right place until it comes along. When I am preparing food, they will sit at my feet and wait for a scrap to drop or for me to pass down a morsel of something tasty. Or it could be the first sound of a packet rustling, when they are immediately back in the kitchen, waiting again. With toys, Ernie will bring them from other parts of the house then sit and wait for me to play. They are not impatient and will stay, sometimes quite a while, no matter how long. They never miss a chance.
How many of us have that level of persistence is sales? Are you running for every single opportunity, not missing even a single one, even if it's just a sniff of a sale? It's quite rare that business owners have the patience and tenacity to sit and wait, just in the right spot, until the sale comes along - but something always does.
CUTENESS
Saying no is made even more difficult by an adorable squishy face and tiny wiggling tail. We all know this feeling from kids in our lives, where the 'pleeeease' face works it's way into our psychology. Cuteness doesn't often has a place in business, but irresistible visual appeal certainly does, is very important and is often overlooked. Without doubt, buyers who visit your website, store, office or see your business card are more likely to do business with you if they fall in love with your branding. How many times do your buyers say they love your branding or website? Great logos and attractive marketing materials cost about the same as bad ones, and could be costing you business.
GENUINE LOVE
Any dog owner will know how loyal and dedicated they are. My pugs follow me everywhere and are always ready to show me love. Just coming home and giving them a pat is enough to make their day.
Even a small portion of that devotion goes a long way to maintaining clients. In my own consulting I am always available to answer small questions and like to really get to know my clients, making relationships stickier, harder to leave and much more productive. How responsive are you to your clients and prospects? Do you think they feel special, like you really care? Even small gestures go a long way.
In a world of social media where dogs and cats are celebrities with thousands of followers, there might be some pearls in their canine behaviour that has a place in business. After all, with humans running around after them, dogs must be doing something right. I am certainly in their grip.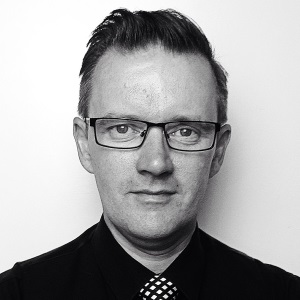 Dr Warren Harmer
warren@businessplancompany.com.au