why it's more likely to win the 2024 election than many people think
Written by

Conor O'Kane, Senior Lecturer in Economics, Bournemouth University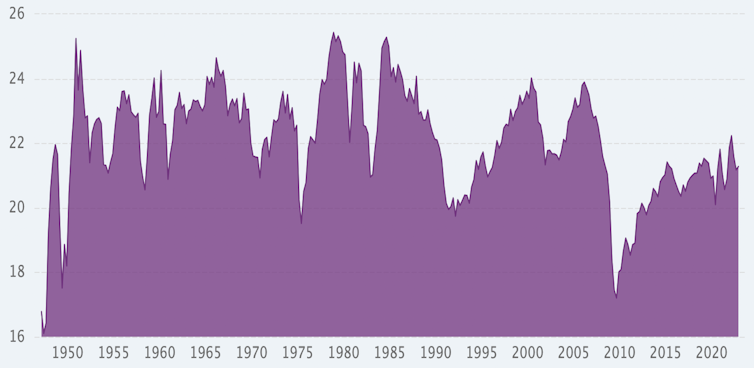 Joe Biden has come out fighting against perceptions that he is handling the US economy badly. During an address[1] in Maryland, the president contrasted[2] Bidenomics with Trumpian "MAGAnomics" that would involve tax-cutting and spending reductions. He decried trickle-down policies that had, "shipped jobs overseas, hollowed out communities and produced soaring deficits".
Changing voters' minds about the economy is one of Biden's biggest challenges ahead of the 2024 election. Recent polling data[3] suggested 63% of Americans are negative on the US economy, while 45% said their financial situation had deteriorated in the last two years.
Voters are also downbeat about Biden. In a recent CNN poll[4], almost 75% of respondents were "seriously" concerned about his mental and physical competence. Even 60% of Democratic and Democratic-leaning respondents were "seriously" concerned he would lose in 2024.
This appears a great opportunity for Donald Trump. He's the clear favourite[5] amongst Republican voters for their nomination, assuming recent indictments[6] don't thwart his ambitions.
Trump won in 2016 by capitalising on Americans' economic discontent. Globalisation is estimated[7] to have seen 5.5 million well paid, unionised US manufacturing jobs lost between 2000 and 2017. The "small-government" approach since the days of Ronald Reagan also exacerbated inequality[8], with only the top 20% of earners seeing their GDP share rise from 1980-2016.
Trump duly promised to retreat from globalisation and prioritise domestic growth and job creation. "Make America Great Again" resonated with many voters, especially in swing manufacturing states such as Pennsylvania, Michigan and Wisconsin. Winning these "rust-belt" states was crucial to Trump's success.
These will again be key battlegrounds in 2024, but the economic situation is somewhat different now. There may be more cause for Democrat optimism than the latest polls suggest.
What is Bidenomics?
When Biden won in 2020, he too[9] recognised that the neoliberal version of US capitalism was failing ordinary Americans. His answer, repeated in his Maryland speech[10], is to grow the economy "from the middle out and the bottom up". To this end, Bidenomics is centred on three key pillars: smarter public investment, growing the middle class and promoting competition.
On investment, Biden's approach fundamentally challenges the argument by the right that increasing public investment "crowds out" more efficient private investment. Bidenomics argues that targeted public investment will unlock private investment, delivering well paid jobs and growth.
The 2022 Inflation Reduction Act[11] (IRA) has helped raise US capital expenditure nearer its long-term trend[12], although there's a way to go. But what is really distinctive is the green-economy focus.
US public investment as a % of GDP
Read more https://theconversation.com/bidenomics-why-its-more-likely-to-win-the-2024-election-than-many-people-think-213281