BRiN™ SeaDifferently – a sleek, sustainable reusable toothbrush made from recycled ocean plastic.
BRiN™ SeaDifferently – Earth-friendly and award-winning reusable toothbrush, developed by French industrial designer François Hurtaud and Hong Kong marketing veteran Karis Lim.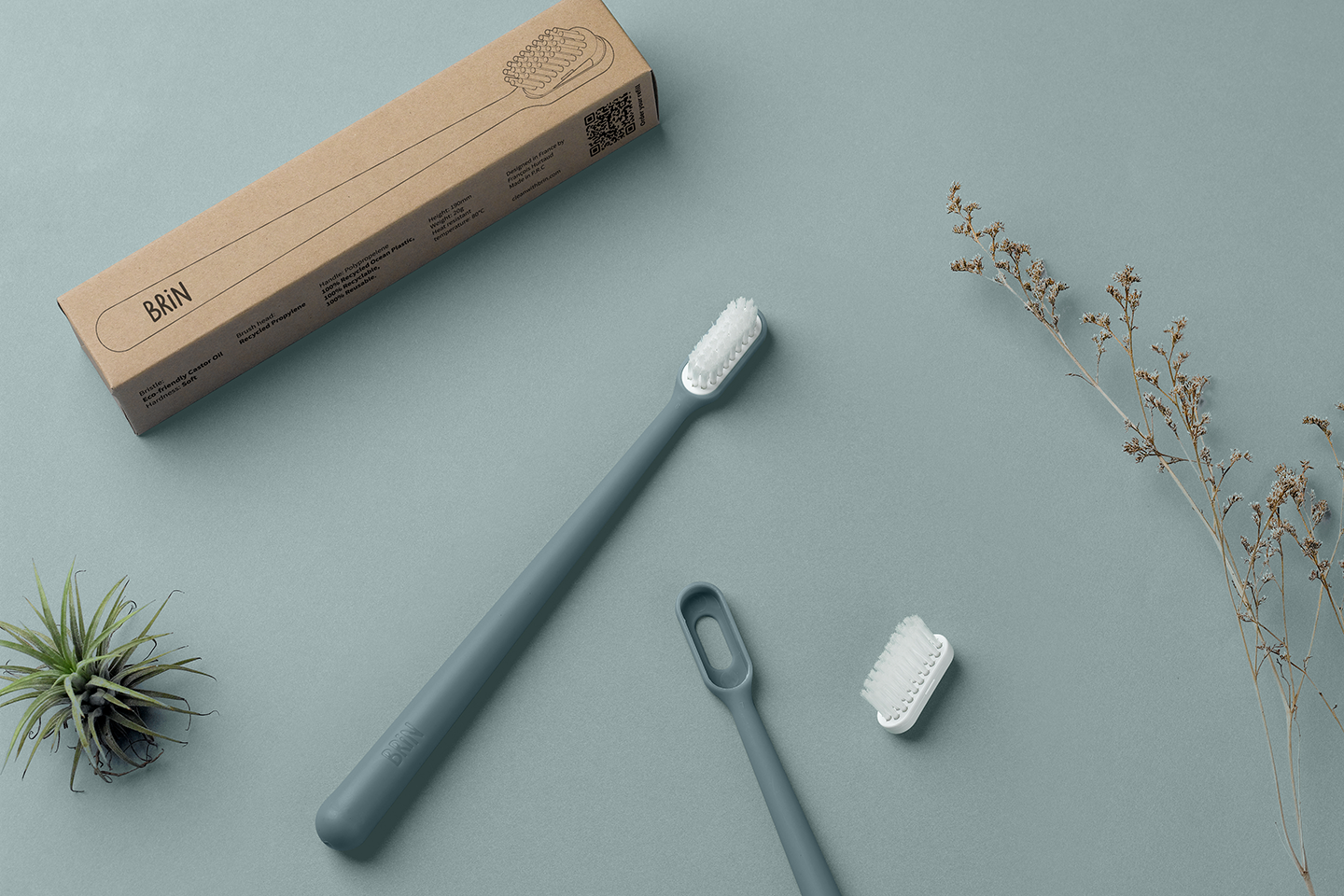 A Gold Medal winner at the Hong Kong Smart Design Awards, SeaDifferently is completely reusable – brush heads are replaceable, each using a blend of natural bio-plastic filament and recycled post-consumer plastic, while the
durable handle is made from FDA-approved recycled ocean plastic, designed to last for decades.
A
subscription option
offers greater convenience, featuring automatic brush head refills and free worldwide shipping, with all products packed in 100% compostable materials, significantly reducing the overall environmental impact.
"The intention was to reimagine an essential consumer good as completely sustainable for people's everyday lives,"
said industrial designer François Hurtaud.
"Our aim is to make convenience and eco-consciousness work seamlessly together, which is rarely the case for most products in the market."
BRiN™ SeaDifferently was developed by Hurtaud in partnership with marketing veteran, Karis Lim. The pair spent three years developing the BRiN brand and its launch product, SeaDifferently, with the prototype taking home Gold in the Green Awards at the 2021 Hong Kong Smart Design Awards. Additional time was spent ensuring all materials were ethically sourced and the product itself was durable enough to promote sustainability in the personal hygiene industry.
"Manual toothbrushes – even natural ones made from wood or bamboo – are difficult to recycle, due to the metal staples that attach their bristles,"
says Lim.
"But SeaDifferently reduces waste by 90% at the end of each use cycle, an important first step to eliminating a growing global problem."
SeaDifferently's functional aesthetics are offered in a contemporary minimalist style and have been purposely designed to effortlessly adapt to future trends. The toothbrush is currently available in three different colours to suit all tastes: Atlantic, Coral, and Sand.
BRiN™ SeaDifferently toothbrush is set to revolutionize the personal hygiene industry, offering a stylish, sustainable solution to traditional toothbrushes. By choosing SeaDifferently, customers can actively reduce their individual environmental impact and promote a cleaner, eco-friendly future for all.
Pricing:
Hashtag: #brintoothbrush #cleanwithbrin #brinseadifferently #oceanplastic #sustainableoralcare #reusabletoothbrush #sustainabledentistry #ecotoothbrush #consciousconsumer #reducewaste #sustainablelifestyle #recycledplastic #greenlifestyle
https://www.linkedin.com/company/cleanwithbrin/
https://www.facebook.com/cleanwithbrin
https://www.instagram.com/cleanwithbrin/
The issuer is solely responsible for the content of this announcement.
About BRiN™
BRiN™ is a lifestyle brand aiming to reimagine everyday essentials, through conscious and convenient product solutions that emphasize sustainability. Founded in 2020 by husband-and-wife creatives François Hurtaud and Karis Lim, BRiN™ is emboldened with a goal to guide consumers in their Earth-conscious journey, inspiring them to reconsider the overall environmental impact of our basic consumer goods.

BRiN's first product was launched in 2022, SeaDifferently, a reusable toothbrush made of recycled materials, awarded a Gold Medal at the Hong Kong Smart Design Awards. Future releases aspire to continue the intersect between contemporary design and convenient sustainability, while collaborating in tandem with eco-friendly partners and communities.


About François Hurtaud
François Hurtaud began his design career as a studio designer in 2008, after graduating with a Master's degree in Advanced Studies in Cross-Cultural Design at Shanghai University, China as well as a Bachelor's degree in Industrial Design at L'Ecole de Design de Nantes, France.

Hurtaud then oversaw the design teams of several major consumer goods companies, demonstrating his insightful understanding of social and sustainable design, cross- cultural design, as well as the precarious balance of function and form in luxury design and production.

Since an early age, Hurtaud was instilled with a passion for art, science and technology, cultivated through his education and apprenticeship in the field of design. Imparted with the opportunity to work in different countries and continents, at agencies and companies that explored multitude design aspects, he now considers design to be an equation – attempting to discover creative solutions that balance functionality and aesthetics, sustainability and profitability, and viability and legitimacy.

Hurtaud's designs have been bestowed with multiple international design awards and accolades, including Good Design Award, Red Dot Design Award, German Design Award and A' Design Award.

Today, Hurtaud runs his own multi-disciplinary boutique design agency in Hong Kong, delivering human-centric design solutions highlighted by their sustainable approaches, to consumer product companies in both the mass market and luxury sectors.

Portrait download