Great approach, weak execution. Economists decline to give budget top marks
Written by

Peter Martin, Visiting Fellow, Crawford School of Public Policy, Australian National University
Despite overwhelmingly endorsing the general stance of the 2021 budget, only a few of the 56 leading economists surveyed by the Economic Society of Australia and The Conversation are prepared to give it top marks.
Asked to grade the budget on a scale of A to F given Treasurer Josh Frydenberg's objective of securing Australia's economic recovery and building for the future[1], only three of the 56 economists surveyed gave it an 'A'.
But a very large 41% awarded it either an A or a B, up from 37%[2] in last year's October COVID budget.
The economists chosen to take part in the Economic Society of Australia survey have been recognised by their peers as Australia's leaders in fields including macroeconomics, economic modelling, housing and budget policy.
Among them are a former head of Australia's prime minister's department, a former member of the Reserve Bank board, a former OECD director and two former frontbenchers, one from Labor and one from the Coalition.
Of the panel members who commented on the historic stance of the budget — expanding the size of the deficit beyond what it would have been[3] in order to drive down unemployment — all but three offered enthusiastic endorsement.
Emeritus Professor Sue Richardson of the University of Adelaide commended the government for at last turning its back on a "debt and deficit" mantra, that was "never justified".
Read more: Exclusive. Top economists back budget push for an unemployment rate beginning with '4'[4]
Professor Richard Holden praised the "watershed". In due course there should be increased attention paid to the structure and quality of spending, but for now we should applaud the "Frydenberg Pivot".
Saul Eslake said the strategy of providing further stimulus to push unemployment down to levels not seen consistently since the first half of the 1970s[5] was the right one. It meant the Reserve Bank and the treasury would no longer be working at "cross purposes" as they had been for most of the past two decades.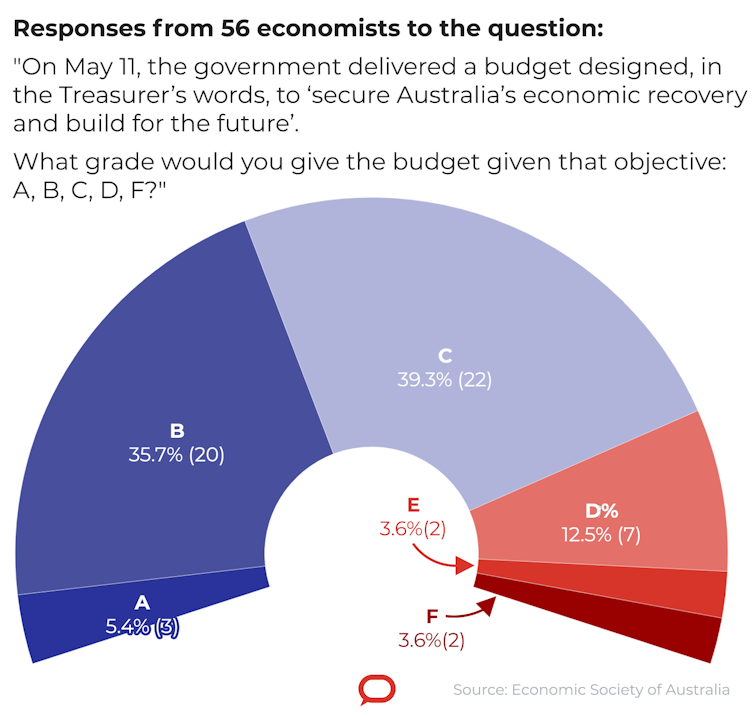 Authors: Peter Martin, Visiting Fellow, Crawford School of Public Policy, Australian National University
Read more https://theconversation.com/great-approach-weak-execution-economists-decline-to-give-budget-top-marks-161347