Fear not, shoppers: Amazon's Australian geoblock won't cramp your style
Written by

Gary Mortimer, Associate Professor in Marketing and International Business, Queensland University of Technology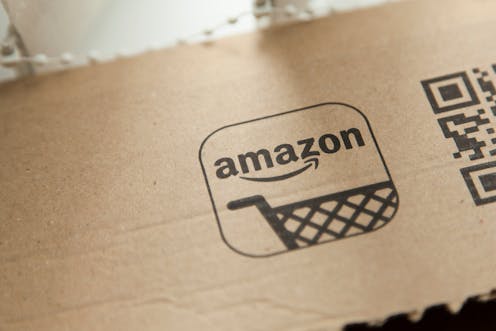 Online retail giant Amazon's decision to block Australian shoppers from its US website has prompted an outpouring of anger[1] from its customers. However, economic statistics indicate the actual value of online purchased products entering Australia from international marketplaces is relatively low. While some shoppers will be disappointed by Amazon's decision, others will simply find ways around the geoblock.
The federal government has been under pressure from legacy retailers like Gerry Harvey[2], who have called for an end to the GST exemption on overseas online purchases worth less than A$1,000.
Federal Treasurer Scott Morrison last year introduced legislation[3] for this measure, arguing it will "establish a level playing field for our domestic retailers". From July 1, 2018, GST will apply to all overseas online purchases.
The Australian Retailers Association has proposed a "vendor collection model[4]" under which foreign retailers would collect the GST at the time of purchase and then pay it to the Australian Taxation Office.
But the fact is that these measures won't level the playing field. Overseas online prices for many items are so low that that even if GST were added, they would still be far cheaper than they are in Australia[5]. For example, a recent search showed Levi's 510 jeans for A$115 at Myer, compared with A$74.85 in the United States; and a Uniqlo Women's ultralight down jacket for A$200 here, versus A$154.10 over there.
Read more: Three holes in Hockey's plan to levy GST on overseas purchases[6]
In 2017 Australians spent an estimated A$24.2 billion online[7]. Yet this is just 7.8% of the amount spent at bricks-and-mortar shops. And more than 80% of online spending was through domestic retailers, which are subject to GST.
With only A$4.84 billion spent via overseas retailers, a quick calculation indicates that adding 10% GST to those purchases would have added A$484 million to the government's coffers last year.
Why has Amazon blocked Australia?
Amazon has blamed the new GST rules[8] for its decision to bar Australian shoppers, arguing that the vendor collection model would create significant operational difficulties:
While we regret any inconvenience this may cause customers, we have had to assess the workability of the legislation as a global business with multiple international sites.
Yet rival online seller eBay seems to have managed to implement the vendor collection model[9] without undue trouble. It looks as if Amazon, which generated almost US$180 billion in sales last year[10], views the Australian market as just too small to justify the hassle. In fact, one study has estimated that Amazon will only gain a 16% share of Australian online retail sales by 2025[11].
Amazon's view on Australia's red tape may well be right. Modelling by Australia Post[12] suggests that if the postal service were tasked with assessing and collecting the GST on international deliveries, it would cost almost A$900 million to collect A$300 million in revenue.
Who are the winners and losers?
As mentioned above, Amazon probably won't suffer much from cutting loose its relatively small Australian customer base. But what about the customers themselves, and Amazon's competitors?
When Amazon Australia[13] (not to be confused with the now geoblocked US site) launched in December 2017, just in time for the Christmas rush, 3.8 million Australians visited the site[14] during that month alone. But this is well short of the 11 million Australian shoppers[15] who visit eBay each month.
Amazon's withdrawal will undoubtedly benefit eBay and other sites such as Alibaba[16], which look set to attract shoppers who are still hungry for an international bargain.
While some dedicated fans of Amazon's US site are understandably annoyed[17], most customers simply won't notice the difference. Customers will be automatically directed to Amazon's domestic offering, which claims to stock more than 60 million products.
Read more: Amazon in Australia might not be the end of retail as we know it[18]
For Australia's traditional retailers, the playing field still isn't really "level", even without access to Amazon US. Don't expect everyone to suddenly start banging down Harvey Norman's doors come July 1. In reality the impact will be minimal.
How to get around the geoblock
For the very determined shopper who demands access to Amazon US, there are naturally ways around geoblocking technology, such as re-shipping services, freight forwarders, and VPNs[19].
But given that the average online shopping basket[20] was worth A$145 in 2017, it seems like a lot of trouble to go to just to avoid paying A$14.50.
Authors: Gary Mortimer, Associate Professor in Marketing and International Business, Queensland University of Technology
Read more http://theconversation.com/fear-not-shoppers-amazons-australian-geoblock-wont-cramp-your-style-97612