The less equal we become, the less we trust science, and that's a problem
Written by

Tony Ward, Fellow in Historical Studies, University of Melbourne
In mid November, South Dakota emergency room nurse Jodi Doering tweeted[1] her experience of caring for dying patients.
Many, she said, were denying the existence of COVID-19[2] until their final breaths.
Their last dying words are "this can't be happening, it's not real." And when they should be … FaceTiming their families, they're filled with anger and hatred
Five months earlier, a 30 year old man died of COVID-19 in the Methodist Hospital in San Antonio, Texas. His dying words[3], to his nurse:
I think I made a mistake. I thought this was a hoax, but it's not
The hospital's chief medical officer reported that the patient became infected at a party with other sceptics, all thinking the virus was "fake news".
Trust varies by location
That Texas party was doubtless organised by mobile phone, and the friends drove their cars there. Both pieces of technology have much more computer storage and processing power than the Apollo 11 moon landing had in 1969.
Ironically, recent advances in science and technology helped people gather to express their doubts about scientific advice.
But it is not just individuals who have downplayed scientific advice and warnings about the virus.
Scientists around the world frequently feel governments do not pay enough attention to scientific advice. That was the view of some half of the 25,307 researchers surveyed by Frontiers, a Swiss publisher of scientific journals, in May and June.
New Zealand takes advice, the US not so much
The survey asked the international scientists whether lawmakers in their country had used scientific advice to inform their COVID strategy.
Overall, the scientists split 50:50[4] on how much, or how little, their government had considered the scientific advice.
Opinions varied widely between countries. In New Zealand, almost 80% were happy with the attention their government paid to scientific advice. In the United States, fewer than 20% of the scientists thought the same about their government.
Where policy makers take scientific advice into account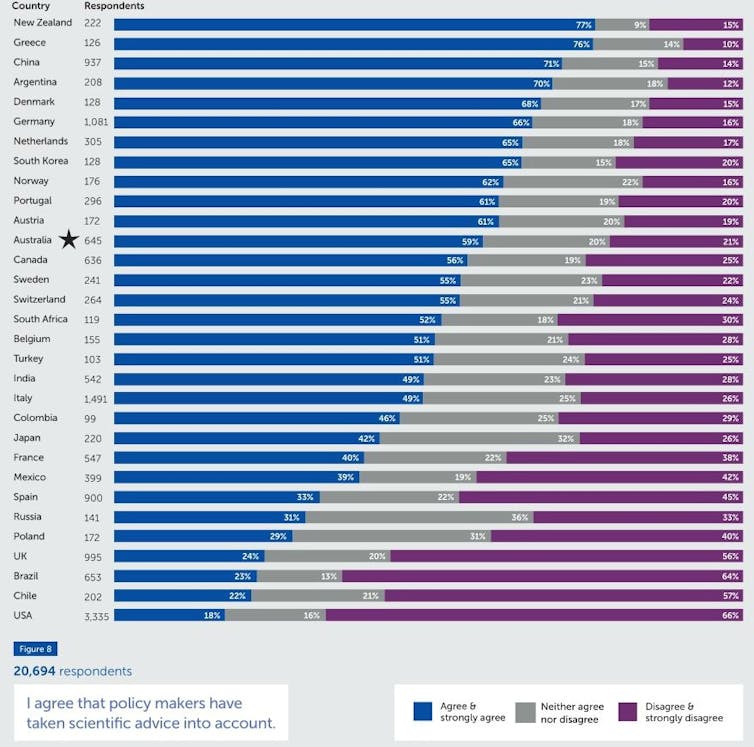 Authors: Tony Ward, Fellow in Historical Studies, University of Melbourne
Read more https://theconversation.com/the-less-equal-we-become-the-less-we-trust-science-and-thats-a-problem-151691