Workers bear 71% to 100% of the cost of increases in compulsory super
Written by

Robert Breunig, Professor of Economics and Director, Tax and Transfer Policy Institute, Crawford School of Public Policy, Australian National University
The government's much-anticipated Retirement Incomes Review[1] has found that increases in employer's compulsory superannuation contributions are financed by reductions in workers' wage growth.
This isn't obvious, and it certainly isn't what the superannuation industry[2] has been saying.
Legally, those contributions (at present 9.5% of each wage) come from employers, on top of the wage.
Employers are required to pay them under a legal instrument known as the "superannuation guarantee[3]".
But employers have to get the money from somewhere.
Compulsory super was introduced in 1992 with the intention the money would come out of funds that would otherwise have been used for wage increases. The document said workers would be[4]
forgoing a faster increase in real take-home pay in return for a higher standard of living in retirement
Government ministers encouraged employers to shave wage increases to pay for increases in compulsory super. In 2012 then minister Bill Shorten explained[5]:
a portion of what would have been employees' increases will go into compulsory savings
Modelling by the Treasury[6], Reserve Bank[7], Grattan Institute[8], and the private sector[9] has long assumed that is what happens.
Then in February groundbreaking research[10] by the Grattan Institute on 80,000 enterprise bargaining agreements over three decades of compulsory super found that was indeed what has been happening.
Read more: Retirement incomes review finds problems more super won't solve[11]
Grattan found that on average, 80%[12] of each increase in compulsory super has been taken from what would otherwise have been a wage increase.
And now, in work commissioned by the Retirement Incomes Review using completely different data (from the Tax Office instead of enterprise agreements) and an entirely different analytical approach, so have we.
Here's what we did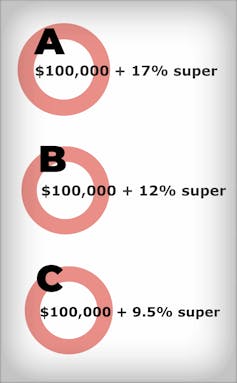 Authors: Robert Breunig, Professor of Economics and Director, Tax and Transfer Policy Institute, Crawford School of Public Policy, Australian National University
Read more https://theconversation.com/workers-bear-71-to-100-of-the-cost-of-increases-in-compulsory-super-150461