They are not necessarily particularly vocal 
Written by

Peter Robertson, Professor, University of Western Australia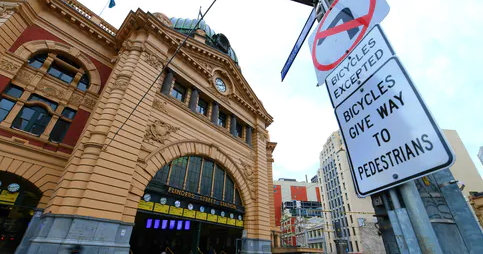 Businesses are protesting vociferously about Victoria's extended lockdown. It's "gut-wrenching[1]," "devastating[2]," a "trainwreck[3]," a "death knell[4]".
Yet businesses and shareholders are far from representative of those most at risk.
The best evidence we've got suggests the hardest hit are Victoria's already disadvantaged.
Those arguing for extended lockdowns make the point that they are not as costly as they might seem (to anyone) because their effects need to be compared not with business as usual, but with business in which a pandemic encourages people to stay at home and reduce spending.
Australia's recession began during the March quarter[5], almost all of which was before the lockdowns began on March 24[6].
Victoria's job losses accelerated well ahead[7] of the renewed Stage 3 and then Stage 4 lockdowns which began on July 8 and August 2.
In the United States it has been found that lockdowns only had a modest effect[8] on job losses compared to what came before; one estimate is 10%[9].
Lockdowns hurt some more than others
But these are overall measurements. Lockdowns hurt some much more than others.
A study of 29 European Union nations found that people with high levels of education were twice as likely[10] as people with low education to be able to work through lockdowns.
A British study found employees in the bottom 10% of earnings were seven times as likely[11] as those in the top 10% to work in a sector that had been shut down.
An Australian study found low income workers were three times as likely[12] as high earners to face a high risk of losing their jobs.
Mobility data shows it
This isn't obvious from mobility data, which seems to show the opposite.
Google statistics on the movement of people with Android phones show that residents of Melbourne's most disadvantaged suburbs have restricted their travel the least[13].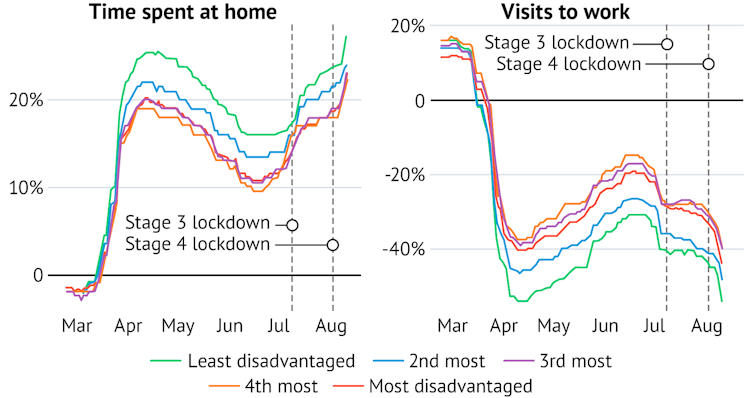 Authors: Peter Robertson, Professor, University of Western Australia
Read more https://theconversation.com/who-suffers-most-from-melbournes-extended-lockdown-hint-they-are-not-necessarily-particularly-vocal-145938