BASKIN-ROBBINS AND STRANGER THINGS PROVE TO BE AN AWARD-WINNING COMBO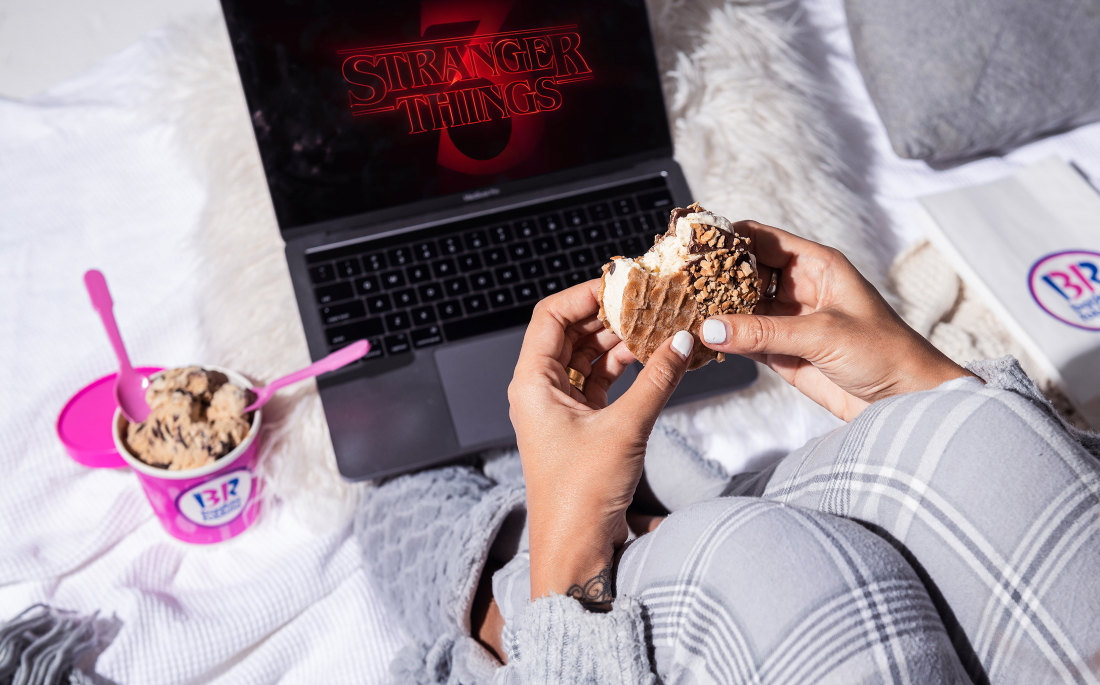 A brave move has paid dividends for Baskin-Robbins Australia who recently announced they won the award for Best Digital Initiative at last week's QSR Media Awards.
Baskin-Robbins Australia's Master Licensee, Palm Oasis Ventures took a risk in launching a digital winter campaign targeting a new millennial and Gen Z demographic when it partnered with Netflix to launch season 3 of the streaming giant's most popular show, the sci-fi horror series,
Stranger Things
.
The winter 2019 campaign involved a limited edition
Stranger Things
menu, sold physically instore at Baskin-Robbins locations and via a world-first 'Scoops Ahoy' virtual restaurant (an homage to the name of the ice cream parlour in the series), with ice cream delivered by Uber Eats.  


BR Australia created a digital experience inspired by key plot points from the show, including the theme of code-breaking. A microsite was developed to allow fans to hunt for hidden codes online and on limited edition products for the chance to win a trip to the
Stranger Things
set in Atlanta, Georgia, US. 
BR Australia National Marketing Manager, Julian Casa said the digital campaign was successful in reaching an audience outside of its core demographic of families and children. 
"Our usual core segment was not a natural fit for this campaign, with sci-fi horror series more of interest to teens and young adults. As such, we applied an edgier, more youth-orientated approach across our product range, creative and channel selection in order to appeal to
Stranger Things'
fans," Mr Casa said.

The campaign achieved 5.2 million digital impressions, 55,000 social media engagements and 151,000 complete YouTube views. A supporting Instagram campaign also helped increase Baskin-Robbins' market share from 29% to 45% among 13 – 24 year olds.
Drawing a link between watching Netflix and having Baskin-Robbins delivered supported the campaign's success and drove a significant increase in home delivery sales over the three month campaign period.

BR Australia General Manager Ben Flintoff congratulated his marketing team and creative agency partners Type and Pixel and Foxed Glove for their support in producing and implementing an engaging campaign.  
"When BR Australia partnered with Netflix and Stranger Things, we thought we had all the ingredients for a successful campaign, and it turned out we were right," Mr Flintoff said. 
"The campaign was one of the most innovative and ambitious concepts BR Australia has activated; from the immersive digital experience, augmented reality content, to the virtual restaurant, all of course complemented by a limited edition range of premium desserts. 
"We're proud of our campaign's success and we feel it really shows how BR Australia can use digital technology to grow market share, while delivering innovative, category leading, immersive experiences for guests of all ages." 
For more information on the campaign, visit https://brstrangerthings.netlify.app and for more information on Baskin-Robbins visit https://baskinrobbins.com.au/
About Baskin-Robbins
Named a top snack and beverage franchise in the United States by Nation's Restaurant News in 2019, Baskin-Robbins is the world's largest chain of ice cream specialty shops. Baskin-Robbins creates and markets innovative, premium hard scoop ice cream, a full range of beverages and a delicious lineup of desserts including custom ice cream cakes, the Polar Pizza® Ice Cream Treat and take-home ice cream quarts and pints, providing quality and value to consumers at more than 8,000 retail shops in 54 countries worldwide.
Baskin-Robbins was founded in 1945 by two ice cream enthusiasts whose passion led to the creation of more than 1,300 ice cream flavors and a wide variety of delicious treats. Headquartered in Canton, Mass., Baskin-Robbins is part of the Dunkin' Brands Group, Inc. (Nasdaq: DNKN) family of companies. For more information, visit www.BaskinRobbins.com.
For further information, visit www.baskinrobbins.com.au
About Palm Oasis Ventures:
Palm Oasis Ventures is jointly owned; with U.A.E.-based Galadari Brothers Group owning the 80 per cent stake, and US-based Dunkin' Brands Group, Inc. owning 20 per cent.  Dunkin' Brands Group, Inc. is the owner of the Baskin-Robbins brand, while Galadari Brothers Group has been the exclusive licensee of the Baskin-Robbins brand in the U.A.E. for 35 years, successfully running more than 650 parlours across the U.A.E. and the Middle East.  Palm Oasis Ventures manages the joint interests of both companies and is the Master Licensee for Baskin-Robbins in Australia.
About Galadari Brothers:
The Galadari Brothers Co. LLC is one of the prominent business groups based out of the United Arab Emirates tracing its birth back to 1961. The Group is owned by the Investment Corporation of Dubai and the Galadari family and is engaged in multiple industries such as media, automobiles, food and beverage, trucks and heavy equipment, among others. The Group's dynamism, innovation and pioneering efforts have been responsible for bringing some of the largest brands to the UAE including Mazda, Baskin-Robbins, JCB, and Khaleej Times. The Group also owns the Radisson Blu Dubai Deira Creek property and Galadari Hotel Sri Lanka. Galadari Brothers is also the Master Franchisee to Baskin-Robbins in the Middle East and Australia extending its partnership to more than three decades with over 650 stores. www.galadarigroup.com