Recessions scar young people their entire lives, even into retirement
Written by

Jenny Chesters, Senior Lecturer/ Research Fellow, University of Melbourne
It is well-established that recessions hit young people the hardest.
We saw it in our early 1980s recession, our early 1990s recession, and in the one we are now entering.
The latest payroll data[1] shows that for most age groups, employment fell 5% to 6% between mid-March and May. For workers in their 20s, it fell 10.7%
The most dramatic divergence in the fortunes of young and older Australians came in the mid 1970s recession when the unemployment rate for those aged 15-19 shot up from 4% to 10% in the space of one year. A year later it was 12%, and 15% a year after that.
Unemployment rates 1971-1977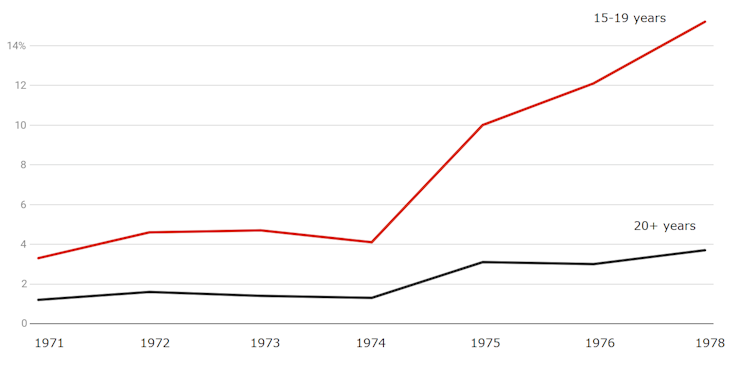 Authors: Jenny Chesters, Senior Lecturer/ Research Fellow, University of Melbourne
Read more https://theconversation.com/recessions-scar-young-people-their-entire-lives-even-into-retirement-137236