Modelling suggests going early and going hard will save lives and help the economy
Written by

Quentin Grafton, Director of the Centre for Water Economics, Environment and Policy, Crawford School of Public Policy, Australian National University
In 1997, a bestselling book[1] by Jared Diamond purported to explain how the West "won" world dominance based on the good luck of geography, and because western countries were the first to industrialise.
Fast forward to 2020, and to COVID-19. Geography still matters, but the West is no longer "winning".
Despite initial mistakes, it seems China[2] has been successful at containing the virus, and other countries such as South Korea and Singapore have, so far, been able to dramatically slow the rate of infection.
Western countries were slow to respond and are paying a very high price. As of March 30, Italy had 98,000 confirmed cases and 10,800 COVID-19 deaths.

While cross-country comparisons on confirmed cases are problematic[3] because of large differences in testing, the United States currently has more than 137,000[4] confirmed cases – the highest in the world, more than in China.
This number will get much larger very quickly if cases continue to double every few days.
The number of Americans who will die will soon be in the thousands, and possibly tens of thousands, if the US does not do much more at a national level to ensure physical distancing.
If the current growth rate continues, parts of its health system, especially intensive care units[5], will be overwhelmed.
Exponential growth
Currently, the rate of infection – without sufficient measures – tracks very closely exponential growth.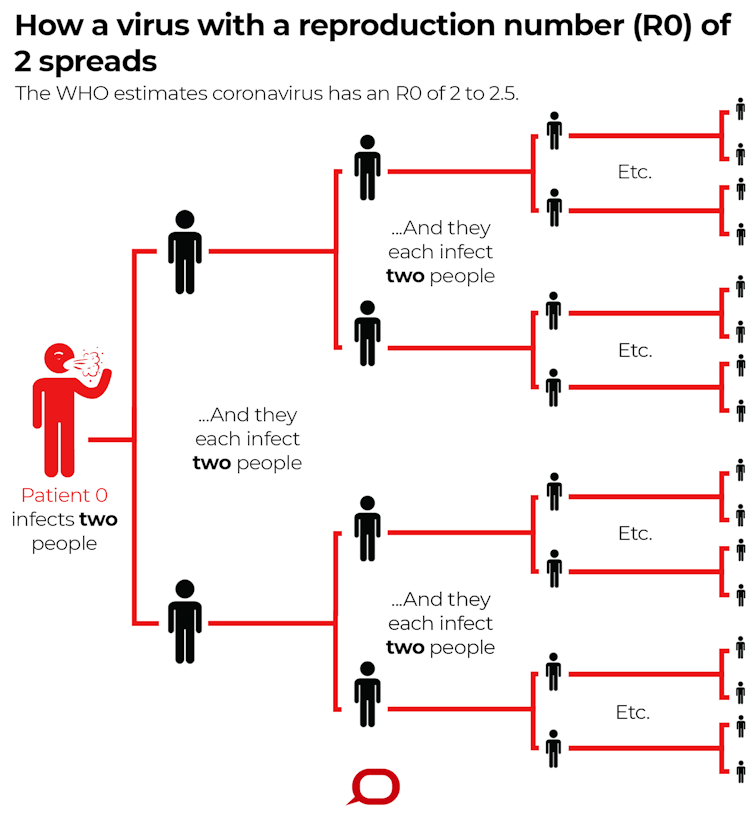 Authors: Quentin Grafton, Director of the Centre for Water Economics, Environment and Policy, Crawford School of Public Policy, Australian National University
Read more https://theconversation.com/modelling-suggests-going-early-and-going-hard-will-save-lives-and-help-the-economy-135025