With costs approaching $100 billion, the fires are Australia's costliest natural disaster
Written by

Paul Read, Climate Criminologist & Senior Instructor/Lecturer, Faculty of Medicine, Monash University
It's hard to estimate the eventual economic cost of Australia's 2019-20 megafires, partly because they are still underway, and partly because it is hard to know the cost to attribute to deaths and the decimation of species and habitats, but it is easy to get an idea of its significance – the cost will be unprecedented.
The deadliest bushfires in the past 200 years took place in 1851, then 1939, then 1983, 2009, now 2019-20. The years between them are shrinking rapidly. Only a remote grassfire in central Australia in 1974-75 rivalled them in terms of size, although not in terms of material burnt or loss of life.
The term "megafire[1]" is a new one, defined in the early 2000s to help describe disturbing new wildfires emerging in the United States – massive blazes, usually above 400,000 hectares, often joining up, that create more than usual destruction to life and property.
Read more: Firestorms and flaming tornadoes: how bushfires create their own ferocious weather systems[2]
Australia's current fires dwarf[3] the US fires that inspired the term.
They are 25 times the size of Australia's deadliest bushfires, the 2009 Black Saturday fires in Victoria that directly killed 173 people, and are so large and intense that they create their own weather in which winds throw embers 30 kilometres or more ahead of the front and pyro-cumulus clouds produce dry lightning that ignites new fires.
The Black Saturday fires burnt 430,000 hectares[4]. The current fires have killed fewer people but have so far burnt 10.7 million hectares[5] – an area the size of South Korea[6], or Scotland and Wales combined.
There are easy-to-measure costs…
The federal government has promised to put at least A$2 billion[7] into a National Bushfire Recovery Fund, which is roughly the size of the first estimate of the cost of the fires calculated by Terry Rawnsley of SGS Economics and Planning.
He put the cost at somewhere between A$1.5 and $2.5 billion[8], using his firm's modelling of the cost of the NSW Tathra fires in March 2018 as a base.
It's the total of the lost income from farm production, tourism and the like.
It is possible to get an idea of wider costs using the findings of the 2009 Victorian Bushfires Royal Commission[9].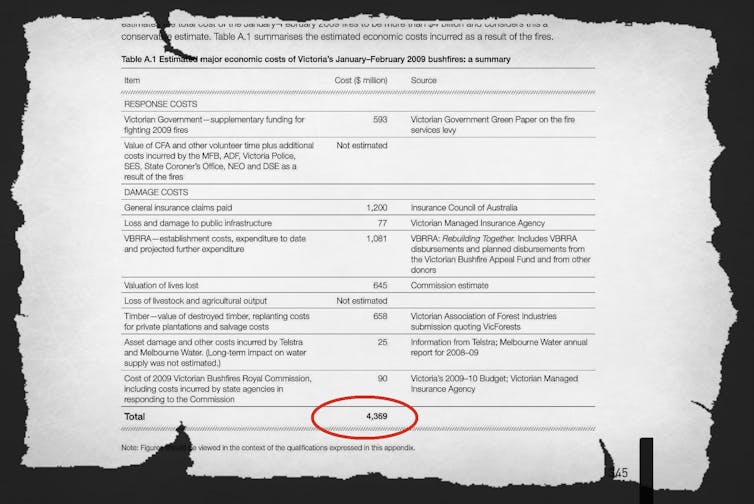 Authors: Paul Read, Climate Criminologist & Senior Instructor/Lecturer, Faculty of Medicine, Monash University
Read more http://theconversation.com/with-costs-approaching-100-billion-the-fires-are-australias-costliest-natural-disaster-129433