The RBA has a new brain. It has thoughts on what'll happen after interest rates hit zero
MARTIN stands for "Macroeconomic Relationships for Targeting Inflation[1]", or perhaps merely for "Martin Place" which is the location of the Reserve Bank's headquarters in Sydney.
It's the bank's new computer model of the Australian economy, made up of 147 equations working in concert. Some are quite simple, such as how global oil prices affect domestic petrol prices, whereas others are more complex, such as how a rise in the unemployment rate affects household spending.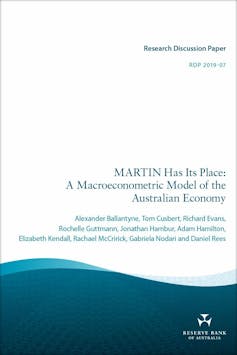 Authors: Isaac Gross, Lecturer, Monash University
Read more http://theconversation.com/the-rba-has-a-new-brain-it-has-thoughts-on-whatll-happen-after-interest-rates-hit-zero-126765