PIZZA HUT TO TAKE ANOTHER SLICE OF THE MARKET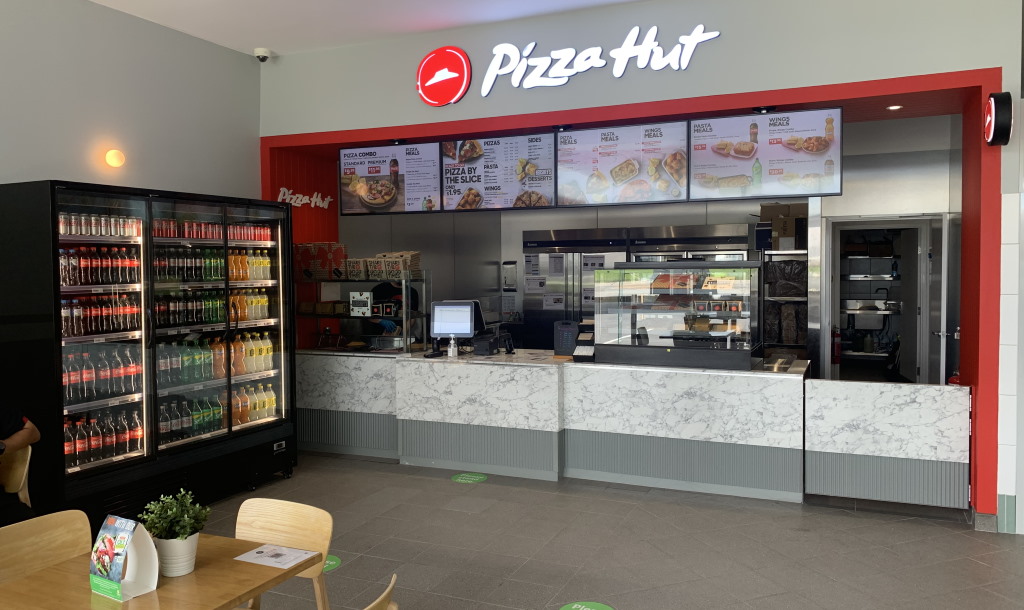 Pizza Hut Australia has made a strategic move as it continues to take a larger slice of the food-on-the-go consumer spend. The business has begun trialling service station kiosks to bring further accessibility to the well-loved brand. Driven by turnaround and transformation specialists, Allegro Funds, Pizza Hut Australia has partnered with Euro Garages Australia and has opened its second Pizza Hut kiosk in a Liverpool based service station in New South Wales, with a third planned to open in early 2021. 
The move is part of the drive to return Pizza Hut Australia back to the number one position. After a number of years of decline, the business is progressing through a major transformation, explains Chester Moynihan, Founder and Managing Director of Allegro Funds and chairman of Pizza Hut Australia, "This partnership will create further accessibility of the brand outside of online ordering, delivery and standard bricks and mortar, to take advantage of the high footfall kiosks visited by hungry travellers." 
Jeremy Trouncer, Investment Manager from Allegro and Director of Pizza Hut Australia, explains: "We have been working on the transformation of Pizza Hut Australia for four years and are now reaping the rewards from the hard work. Rolling out Pizza Hut kiosks in partnership with Euro Garages enables us to expand Pizza Hut's reach and bring our much loved Pizza to a wider audience." 
Phil Reed, Chief Executive Officer of Pizza Hut Australia explains: "This is an exciting new direction for the brand and we are pleased to be trialling Pizza Hut kiosks in partnership with Euro Garages.  For us this is about bringing Pizza Hut to a wider audience and providing quality food to those on the road. This is the result of the involvement of many parties who have worked hard to make this happen, one of which is Allegro, our long-standing partner and investor. 
"Allegro have been excellent partners to work with. Their unique operational approach to managing portfolio companies has given us access to their team and resources enabling us to pursue opportunities that would have otherwise taken longer, or may not have been pursued at all. Pizza Hut kiosk is an example of this. We have already had a great response to the kiosks and look forward to seeing how it goes during this busy travel period, as people return to the roads post-holiday break."
The Pizza Hut kiosks can be found at 67 Orange Grove Road, Liverpool and 66 Parker St, Kingswood, NSW.


About Allegro
Founded in 2004 by Chester Moynihan and Adrian Loader, Allegro is Australia's most-awarded team in the transformation investing space. They have one of the largest private equity teams on the ground and their track record demonstrates that they successfully partner with management teams and other stakeholders to create value in a business regardless of how that business may be performing. Allegro Funds has been working with Pizza Hut Australia for four years and has been integral to the growth and revitalisation of the brand.
About Pizza Hut Australia 
Pizza Hut is the largest pizza chain in the world with more than 12,000 Pizza Hut Restaurants and Delivery Units operating worldwide. Approximately 270 stores are located in Australia.
About Euro Garages Australia
Euro Garages arrived in Australia in 2019, having bought the 534 fuel and convenience sites previously owned by Woolworths, with fuel supplied by Caltex. Many of our sites are still co-branded Woolworths and Caltex, but will be updated and replaced with EG and Caltex.
We already operate nearly 6,000 fuel and convenience stores across Europe and the United States, bringing a wealth of experience to Australia.
Our approach is to combine a strong everyday range of household essentials, meal deals and snacks, with the expert support of partners such as Oliver's and Caffe Aurora.