Driving change: how an Australian tech entrepreneur is revolutionising car ownership
Written by

Luke Rust, Outbound CEO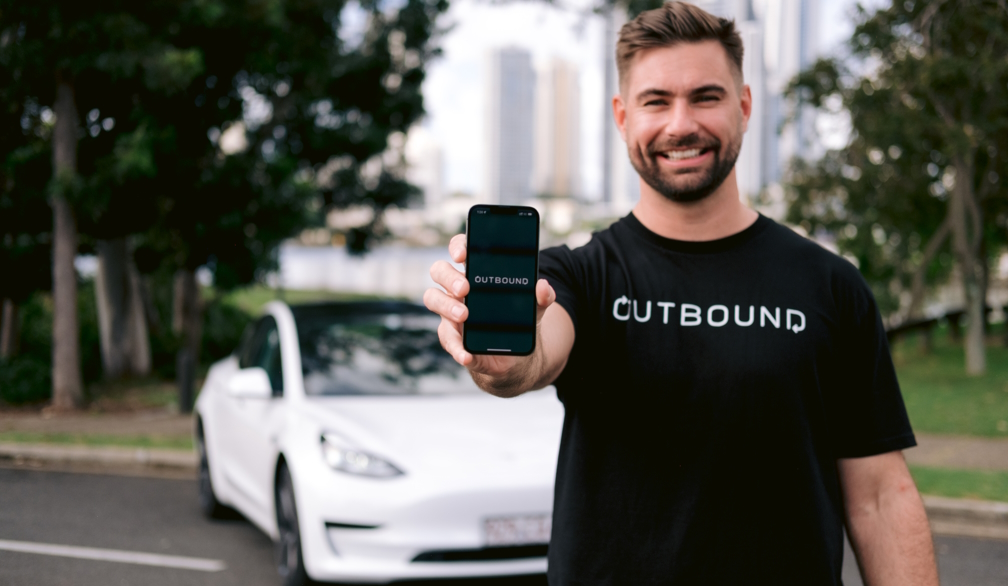 I'd like you to rethink owning a car - certainly your dependence on owning one.
That's right, sell it and not buy another.
Why? Because it costs around $17,000 per year to own and operate a private vehicle in Australia (including depreciation, registration, insurance, servicing, fuel and perhaps a few tolls).
It also sits idle about 96% of the time.
But what about that 4% (or so) of the time you do need a car?
Luckily, I've got an idea for that too!
I'm pioneering a concept in Australia called 'shared mobility' - it's similar to Uber and other ride sharing providers … but you do the driving.
And they're electric vehicles - mainly Teslas.
How does it work?
My phone app Outbound installs 'communal Teslas' where you need them as an on demand car service for those moments you need to go somewhere.
So far, they're in hotels, saving you the hassle (and extreme cost) of hiring a car for the day - you simply grab one of the onsite vehicles and only pay for the time you use it - but very soon, a number of residential communities and commercial workplaces around the country, including the 300 unit Newlands project in Sydney and the $400 million Merchant House redevelopment in the CBD.
And it's all facilitated through the app.
It just seems silly to me to have a car, which is costing you a fortune, just sitting there losing value.
But what if we flipped the whole notion of car ownership on its head in Australia and worked out a new way to still get around without a giant 'money hole' parked in our garages?
At this stage, it's being charged at $30 per hour, so a half an hour dash to a cafe up the road would only cost $15 (two hours would cost $60 etc.).
The first Tesla went live at Gold Coast hotel Mantra at Sharks, early last year.
User feedback has been phenomenal; people are really embracing the concept.
And taking a brand new Tesla for a spin on holidays is always a great experience - particularly if you've never driven one before.
It's a bit like a gym or pool at a hotel, they're part of the property's amenities for guests to use, and so is the Tesla.
Money talks and if Australia could somehow break its addiction to car ownership, this concept of 'shared mobility' could be the future.
Just imagine, instead of a 100 unit apartment building having all these cars parked underneath, costing everyone, there's a number of Teslas onsite for residents to use.
It's also great for the environment, being electric, so there's that sustainability aspect to it too.
Entrepreneurial spirit
I'm an expat Brit in my early thirties and proud to be part of an energetic, young entrepreneur crowd on the Gold Coast who really is redefining what's possible in a whole range of areas - not just tech and transportation.
I love it in southeast Queensland; certainly, the weather is great, especially on the Gold Coast, but just from an entrepreneurial perspective, there's a lot of ambition and innovation coming out of this place too.
It may not be the new Silicon Valley yet, but it's well on the way - there's stacks of new ventures being launched from the Gold Coast and more leading minds are moving here every week.
Bootstrapping an idea like this isn't easy but I do believe in it and if in five or 10 years, people have totally changed their minds about owning a car and are choosing to use Outbound or another shared mobility service, I'll be very proud.