$20 billion per year. That's how much higher superannuation could take from wages
Written by

Brendan Coates, Fellow, Grattan Institute
Stagnant wages are a huge issue in this election campaign.
So it is odd that both major parties are hanging onto a policy that will take more out of workers' pockets.
Lifting compulsory superannuation contributions from 9.5% to 12% in five annual steps between and 2021 and 2025, as Labor insists on and the Coalition says it supports, will take up to an extra 0.5% out of wages each year for five years.
If wage growth would otherwise be 2.3% per year, as it is now, instead wages growth for five years would be closer to 1.8%. After the five years, wages would be up to 2.5% lower than otherwise.
And it would cost the budget, which is one of the reasons neither side is anxious to do it until 2021. Super contributions are taxed more lightly than wages.
In return, workers will get more super, which won't help them much.
More super means lower wages
Australia's superannuation system requires employers to make compulsory contributions on behalf of their workers.
Right now that contribution is set at 9.5% of wages and is scheduled to increase incrementally to 12% by July 2025. Federal Labor recently recommitted[1] to increasing compulsory super to 12% of wages. It's also Coalition policy.
Although the government requires employers to pay super on top of salary, it doesn't usually come out of their pockets.
The overwhelming evidence[2] is that higher super contributions are paid for by lower wages.
The Henry Tax Review[3] and others[4] have found this is exactly what happens.
The Parliamentary Budget Office came to the same conclusion[5] in April this year: if compulsory super contributions go up, wages will be lower than they would be otherwise.
And the cut to wages from raising compulsory super from 9.5% to 12% will be big. Really big. Our calculations show that by the time it is fully implemented in 2025-26, a 12% Super Guarantee will strip up to an extra A$20 billion from workers' wages each year, or close to 1% of Australia's gross domestic product.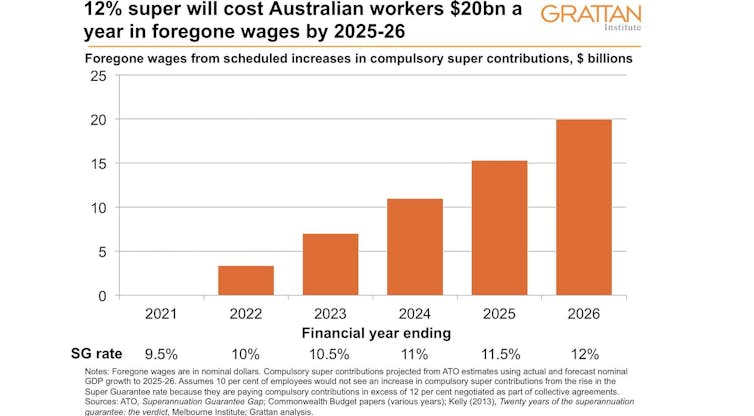 Authors: Brendan Coates, Fellow, Grattan Institute
Read more http://theconversation.com/20-billion-per-year-thats-how-much-higher-superannuation-could-take-from-wages-116353