4 Tips for Marketing Your Business Online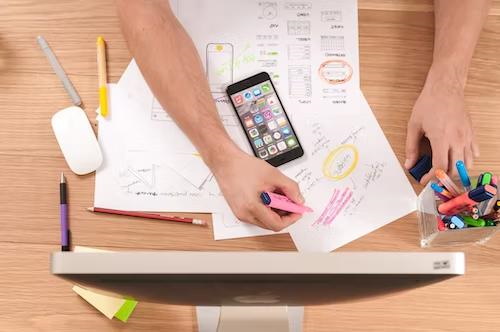 Online marketing has revolutionized the way businesses reach their customers, enabling them to widen their reach, target their chosen audience, and increase engagement. This has made it easier for businesses to market themselves in cost-effective and measurable ways helping them to build their brand whether locally or worldwide. In this article, we'll outline some helpful online strategies that your business can employ to bolster its marketing efforts.
User-Friendly Web Design
While this may not be a marketing tactic in itself, it should be considered as part of your overall strategy as it can greatly affect your sales. No matter how interesting your content is, you are likely to lose customers if they are put off by your site.
The more appealing and user-friendly your webpage is, the more likely it is to attract visitors who wish to browse through it and make a purchase. A well-designed website that is functional, simple to navigate, and optimized for both computer and mobile devices will help to boost your conversion rates and increase your sales.
Search Engine Optimization (SEO)
SEO can be beneficial for your business and can improve its visibility online by ensuring your website appears in relevant searches, thereby driving traffic to your site. This can be achieved by optimizing the content on your website, using keywords, building backlinks and other SEO techniques designed to improve your website's ranking and online presence. This will ultimately lead to more traffic and the possibility of converting prospects into paying customers.
Affiliate Programs
The benefit of this marketing model is that it allows people who believe in your business and the products or services you sell to promote them to others within their sphere of influence and beyond. This makes affiliate marketing a great way to spread the word about your business and to boost your traffic as well as your brand awareness. Whether it's affiliate marketing on Pinterest, email newsletters or blog posts, this can be a cost-effective way to widen your reach.
Setting up an affiliate program offers you a means of attracting new customers and increasing your sales. As there are no upfront costs attached with this performance-based model it also offers a low-risk means of marketing your business while increasing its exposure, reach, and sales.
Email Marketing
This marketing tip will give your business a voice and allow you to connect with your customers. Email marketing is more than just sending out emails to your subscribers about your latest product or service. It gives your business a platform through which it can send out personalized content which is tailor-made for the reader, such as special offers, thereby increasing engagement and open rates. It can also be used to set up a series of emails designed to nurture leads depending on where they are in their customer journey.
In addition to this, email marketing allows you to send out surveys and collect valuable feedback from your audience which can help you better meet your customer needs and remain competitive.
As this article highlights, there are many online strategies your business can implement to help it boost its marketing efforts.