Australian wellness brand founder, Dr Vincent, believes quirky habits key to success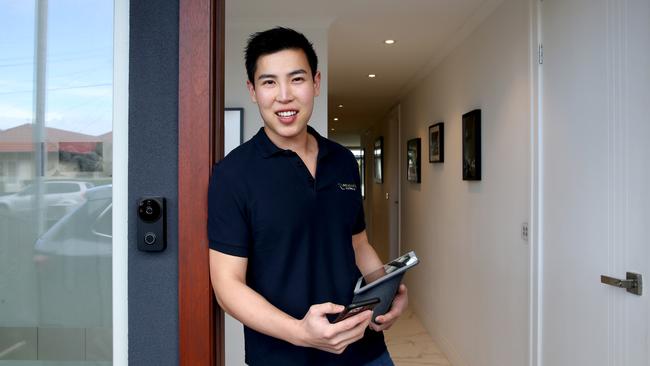 Dr Vincent is not only the founder and head of one of the country's most successful and fastest-growing health and wellness brands, Renovatio, he is also one of the country's most inspiring entrepreneurs, and he puts his success down to his quirky habits. 
Renovatio Bioscience is an Australian success story.  Founded in 2016 by Dr Vincent, a highly respected antioxidant researcher, food scientist and clinical nutritionist, the business has developed a range of supplements and skin care products made from 100 percent Australian apples which are sold nationally and overseas in multiple countries.   
"From the moment I walked into a research lab in university, I knew that I was exactly where I wanted to be, I wanted to discover ways to support and improve the health of the human body," Dr Vincent said. 
"My journey as a student, researcher and now company director has given me the tools and capability to create innovative products that genuinely help people.  Renovatio's unique products contain the world's most potent antioxidants and every day I continue my work to explore new ways of applying my research to develop new products. 
"I work long hours and must continue to maintain high levels of concentration.   Working in a lab can be tiring but also exhilarating at the same time, especially when we make breakthroughs with our formulations and testing.   This is where the magic happens and new products are born." 
According to Dr Vincent, his quirky habits help him to maintain his energy levels and high levels of concentration. 
Two eggs for breakfast
"Every morning without fail, I eat a two egg omelette for breakfast. It sounds boring and dull to some, but it is an important ritual for me," Dr Vincent said. 
"I first learned to make omelettes to teach myself patience and adaptability, simple dish but it requires both these amazing qualities to make it excellent! 
"Eggs are packed full of goodness.  They contain iron, vitamins, minerals, and carotenoids as well as disease-fighting nutrients like lutein and zeaxanthin. I have been eating the same breakfast for over ten years and my body is used to this level and type of energy and it works brilliantly for me. It sets me up for a day requiring energy and endurance." 
I go to bed at midnight
"My university days have prepared me well for international business," Dr Vincent said. 
"Renovatio now exports to countries all over the world.  I stay up until midnight dealing with correspondence, answering emails, speaking with distributors and stockists and managing other business activities.   This is also the time that I catch up with general news and what is happening in the market." 
"My body clock is set to go to sleep at midnight, no matter what." 
I skip everywhere
"Sounds weird doesn't but I love skipping. Every morning I do 2,000 skips without fail. I find skipping great for the cardiovascular system and an excellent way to maintain my coordination. This also teaches me the important of commitment and discipline," Dr Vincent said. 
"When I travel interstate or overseas, I take my skipping rope with me and I skip in the hotel room. My skipping rope goes with me everywhere." 
Five to six hours sleep
"Even though I go to bed late, I am up early every day. I find this is the best way to check emails, respond to urgent matters and get myself set up for the day ahead," Dr Vincent explained. 
"My body functions extremely well on this amount of sleep and if I feel tired, I simply down tools and have a power nap for 10 minutes to recharge the mind and body." 
Walk and talk
"Phone time is dead time if you are sitting, so the minute I take a call or have to make a call, I start pacing," Dr Vincent said. 
"I walk and talk, pacing around so that I am keeping active while I am on the phone. This enables me to be present for the person on the end of the line and not distracted by a computer screen.  I spend a lot of time on the phone during the day so walking and talking is actually a really good way to get in some steps towards my step count." 
According to Dr Vincent, while his habits may seem quirky, they provide an important sense of routine and give his body the essential fuel it needs to get him through the day. 
"Naturally I supplement my diet with Renovatio 'An Apple A Day' Activated Phenolics Tablets, Mental Resilience and other Renovatio products but my quirky habits work for my mind and body and this is important for me," Dr Vincent said. 
And things are not slowing down for Dr Vincent.   His products are already stocked in Woolworths nationally and are about to be stocked in Coles from August 2022 as well. 
About Renovatio
Renovatio Bioscience was founded by Dr Vincent in 2016 following his breakthrough discovery while undertaking antioxidant research at the University of Newcastle. He developed a laboratory technique to extract the world's most potent antioxidants 'activated phenolics' from Australian apples and other produce using only water. His innovative work solved an issue, which had been perplexing scientists all over the world for nearly 80 years.     
Dr Vincent patented and translated his innovative work into a range of 'turbo charged' health and wellness products to help people access the world's most potent antioxidants in an 'easy to consume' form.  
Products in the Renovatio range include: 
Activated Phenolics powder
Activated Phenolics Tablets
APSKIN Face
APSKIN Body (Body and hands)
APSKIN Ultra Serum
APSKIN Face Cleanser
Gut and Digestion (Activated Phenolics with Advanced Prebiotic)
Activated Phenolics Immunity Plus
Activated Skin Remedy
Activated Mental Resilience 
The entire Renovatio range can be purchased online at www.renovatio.com.au