At 3.9%, Australia's unemployment rate now officially begins with '3'. What's next?
Written by

John Hawkins, Senior Lecturer, Canberra School of Politics, Economics and Society and NATSEM, University of Canberra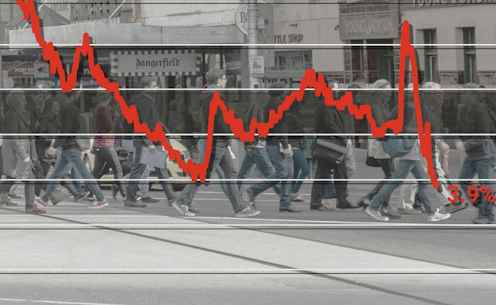 Early in the election campaign, on April 14, we learned that Australia's unemployment rate had slipped below 4% in March, to 3.95%[1] – the lowest rate in 48 years.
But the Coalition was denied the bragging rights that would flow from an unemployment rate beginning with "3" because of a Bureau of Statistics convention of quoting the rate to only one decimal place, which meant the rate was presented as "4.0%", the same as the month before (when it was actually 4.04%).
Thursday's figure, for the month of April, has broken the barrier. Officially 3.9% (and actually 3.85%[2]), it is clearly below 4% for the second consecutive month (because the March figure has been revised downwards to also round to 3.9%).
Read more: Technically unemployment now begins with a '3'. How to keep it there?[3]
It means the unemployment rate has decisively broken out of the band of 5-6% it has been in or near for the past two decades and slipped below 4%.
It has fallen to where it was a half-century ago when (in the days the survey was quarterly) it jumped from 3.7% to 5.4% between November 1974 and February 1975.
Of course, 3.9% is an average. Over the country, the unemployment rate ranges from lows of 2.9% in Western Australia and 3.1% in the Australian Capital Territory, to highs of 4.5% in Queensland and South Australia.
For women, the rate is an almost half-century low of 3.7%, less than the 14-year low of 4.0% for men.
Australia isn't alone[4]. The unemployment rate is below 4% in the United States, the United Kingdom and New Zealand; and below 3% in Japan, Germany and Korea.
Further declines are expected. The Reserve Bank is forecasting unemployment of 3.6% by 2023[5], a few points less than the Treasury, which is forecasting 3.75%[6].
But the Bank is modest about its forecasting ability. It only claims to be 90% confident that by mid-2024 the rate will be somewhere between 2% and 5%.
Read more https://theconversation.com/at-3-9-australias-unemployment-rate-now-officially-begins-with-3-whats-next-183226