Common Types of Household Junk You Need To Clear Out This Year
Written by

NewsServices.com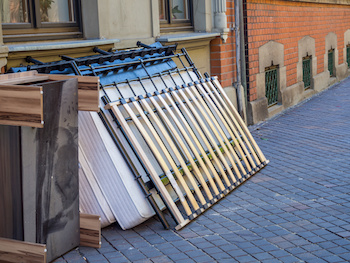 Many Sydney households complain about massive clutter each year. Since we tend to collect and hoard various items, it's not surprising to find enormous piles of junk in our homes.
Whatever pieces of junk you've gathered, it's always essential to remove them to maintain safety and cleanliness. Besides, no one wants to stay and live in a house full of clutter. If it's a year-long waste cleanup, it's best to rent a Construction Waste Removal to have a container large enough to collect all the waste allocated in every corner of your house.
To help maintain your home's clean and safe vibe, here are the common types of household junk you need to clear out this year.


Old Mattresses
Your mattress will eventually wear and deteriorate quality. As it ages, you might consider replacing it with a new one, tossing the old one into the corner.
Old mattresses of any size can take up valuable space in your home. They are also heavy, making them a bit difficult to move out and around the house.  
If you have used mattresses you want to get rid of— this year's the best time to do it. You don't have to leave such bulky pieces of junk lying around your house for a longer period.
There are many ways to clear out your old mattresses, but relying on the professional removalists in Sydney will make everything safer and easier.
Your mattress removal won't take much time and effort when you have the experts working for you.


Damaged Electronics
Say goodbye to the old computers, laptops, power cords, televisions, and other electronics you've gathered at home. Don't let them stay and clutter a valuable space in your house for another year.
You need to act now as it's essential to dispose of your damaged electronics to prevent hazards. Hoarding them for a long time comes with risk as they consist of heavy metals and elements that can be harmful.
Clearing out your old or broken electronics this year is one step to decluttering your entire home. You can do some research to find the nearest recycling facility in your area where you can take your junk.
Like mattress removal, you can also opt to hire a rubbish removal team to avoid all the hassle of disposing of damaged electronics.


Unwanted Furniture
You probably have numerous pieces of furniture that you no longer need around your home. If so, then maybe it's time to bag and haul away those items to make a new start.
Whether you're replacing old furniture or disposing of broken ones, it's important to take the necessary steps to clear out clutter from your home.
Don't let your unwanted furniture cause a mess and ruin the comfortable mood of your household. You can get rid of such items through various ways such as donating to charities, selling, giving them away, or through professional rubbish removal.


Old Clothes
You may have gathered hundreds of clothes over the years. If the piles have grown too much, then a clear out would be a good idea.
Take those old clothes out of your closet. Someone may need them more than you do. You can give your unwanted clothes away to your relatives or put them for donation. Take them to thrift stores or recycle them yourself. 
You can also call a junk removalist in Sydney to help you sort, pack, and dispose of old and used clothes. 


Conclusion
It doesn't matter what type of household junk you've accumulated. You have to declutter your entire house this year. Don't delay the junk clean up.
It's time to do a mattress removal, get rid of broken electronics and old furniture, clear out those old clothes and remove any other household junk. Make your living space clean and safe through
professional rubbish removal in Sydney
.