Talent and Campaign Manager appointed at Komodo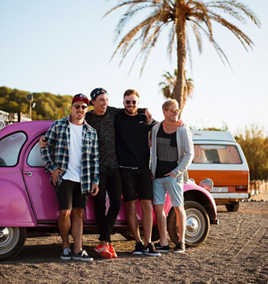 Influencer Marketing Agency, Komodo, Set to Launch TikTok Offering in Australia
Global marketing agency, Komodo, has announced it will be launching a dedicated TikTok arm to the business in Australia, following a series of key industry hires and new creators signed to their roster.
The agency, which partners brands with social influencers across the globe, aims to bring a new dimension to influencer marketing by assisting brands in the creation of engaging and unique TikTok campaigns.
The video-sharing platform became popular in early 2020 and was also recently announced as the world's most downloaded app of the last year. With TikTok's popularity growing quickly, the Komodo team noticed brands are still getting to grips with the social channel and so have hired specialist talent to help them drive engagement and results in this area.
Corbin Sylk has been appointed as Talent and Campaign Manager for the Australian team and will be specialising in TikTok activations for global brands, following on from his experience managing one of Australia's top three largest Tiktokers. Having been part of the TikTok platform from its infancy, when dance challenges were all the rage, Corbin has helped music artists such as Tyga, Blue Face and Billy Ray Cyrus achieve viral hits through his keen understanding of the platform.
To kick start the activity in Australia, Komodo have also signed a selection of Australia's largest TikTok content creators to their roster, Tom Sharpe (@cloutom/4.3M followers), Andy Peng (@andythesk/3.4M followers) and Sasha Morpeth (@sashamorpeth/2.7M followers) have all newly joined the team, on top of Anyang Deng (@anyang_deng/2.5M followers) and Keala Alysha (@kaelaalysha/386k followers) who were already signed to the agency.
The creative agency has previously launched successful campaigns for brands such as Pretty Little Thing, Boohoo, Nasty Gal, Wild deodorant, Thailand Tourism and South Australia Tourism.
Nick Seymour, Co-Founder and Director at Komodo, said: "With our extensive experience in launching successful Instagram, Facebook and YouTube campaigns, it feels like a natural move for us to broaden our expertise in line with trends to accommodate TikTok in the Australian market as well. As the platform is now the fastest growing social app globally, it is going to become vital for brands to diversify their social channels and focus on TikTok in reaching and engaging audiences. 
"Having worked on a variety of successful and interesting TikTok campaigns in the past, Corbin will lead the team in developing engaging campaigns that position clients exactly where potential customers are looking. Together with our existing talent, we are confident we have a very strong team which can deliver on every aspect of influencer marketing.".
Corbin Silk commented on his appointment "This is a really exciting time for me to be joining the Komodo team and I'm looking forward to helping the business through this period of growth and lead in developing their offering of TikTok campaigns to brands in this ever-changing social media world.
"There is so much opportunity and potential for brands to be promoting on TikTok as it grows in popularity. However, it also brings in a new era for social media with a new generation that's notoriously harder to promote to than ever before, meaning it's more important for brands to ensure their approach to social media marketing is authentic and resonates with what this demographic want to hear. 
"We've already made some incredible talent signings for the Australian market, and I'm really looking forward to partnering major brands with them to create engaging and unique content. The future is really exciting for Komodo, and I can't wait to see what's to come." 
Tom Sharpe spoke about his signing to Komodo: "I'm super excited to have the opportunity to join the Komodo family. I have never felt so cared for with an agency and there are so many exciting opportunities ahead! I'm looking forward to growing together and creating some awesome memories and content with the Komodo team. Finding the correct agency to align with my video creating journey hasn't been easy but Komodo has opened me to their family with open arms and can't wait for the journey to begin!"
About Komodo:
Founded and headed by four friends in 2017, Komodo is a 360-influencer marketing agency aiming to improve the way brands operate their social media and influencer marketing strategy through creative and engaging campaigns. Having more than tripled the size of the team over the past year, the agency is now offering their social media management clients the opportunity to produce fresh, engaging TikTok campaigns.
The creative marketing agency, which boasts clients including Prettylittlething, Boohoo, Nasty Gal, DAZN, Wild deodorant, Slotomania, Thailand Tourism, South Australia Tourism and JSHealth, now has offices in Sydney, London, LA and Bangkok.