What is a supply chain management solution?
Written by

Anna Melnikova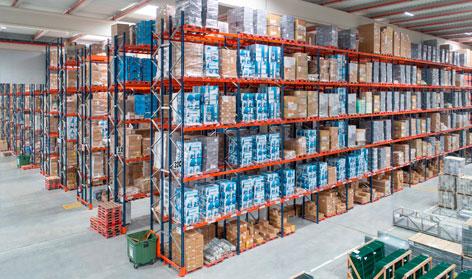 SCM-Supply Chain Management is the management of the flow of goods and information for all of the participating parties in the supply chain project.
The management revolves from the raw materials to the goods delivery to the final destination.
When we talk about the final destination in the SCM, it is not only about the client's acceptance of the products, but also the returns.
It is important to differentiate logistics from the supply chain. Those two are not the same things, although they are in the same bubble.
Logistics is a part of the supply chain.
In management, all tasks are taken care of more effectively with the help of the SCM supply chain solution.
The tasks include service or goods creation, orders, as well as information tracking. Meanwhile, the deeper activities revolve around procurement, product lifecycle, forecasts, logistics, and order management.
The SCM is basically appropriate for all activities from local to global scale. That's why it is a very important topic for all businesses who want to grow their reach in the global market.
Compare the best supply chain management solutions
Just like other productivity software, there are multiple options for SCM software too. To get the best solution, you can have a much better chance when focusing your search only on the top ERP software providers like Agistix.
It is a huge NO to stick to the option you first met out there. Instead, you could list a few candidates and narrow them down to the solution that is suitable for your business.
To help you in your search for the best supply chain management software, we've compiled a list of the top-rated supply chain and ERP software according to their features. Read on after the comparison chart for more information on how supply chain management software can help your company, or fill out the Product Selection Tool at the top of the page to get free custom recommendations according to your needs.
What is supply chain management?
SCM-Supply chain management is the solution to managing the flow of products from their raw materials sourcing to their final destination.
In order to achieve such a great result in management, it is important to use the right software for managing the supply chain.
Companies in most industries must consider using the right SCM software to help them track the movement of materials and final products from point to point.
That is from the manufacturer, warehouse, store, customer, as well as the return or disposal. In the supply chain, the goods' final destination is not the client. But these can go to reversal or even disposal if the products are defective or fail.
Each company might have different software to help them. It is because each of them has their own requirements and needs. The SCM software solutions can help the company to streamline all of the processes and improve the efficiency of the premises. With the good quality of delivery, it will improve customer relationships as well.
SCM solutions market overview
Industry verticals using SCM software include pharmaceuticals and healthcare. SCM companies nearly always produce completed items, semi-finished commodities, or raw materials.
Materials and manufacturing processes are frequently outsourced. Businesses may thus focus on high-level innovation and their primary business plan. Partner organizations and foreign locations have less control over operations and goods, causing complications. Suppliers, distribution networks, and R & D improve global competitiveness and risk exposure.
Common features of supply chain management solutions
In general, most supply chain management organisations concentrate on the following aspects:
The optimum amount
With these characteristics, the needed number of items will be placed in the right locations, and any possible warehouse, distribution, or retail supply shortfalls will be informed to the appropriate stakeholders. An organization should employ a continuous supply network monitoring system to save administrative expenses while also assuring delivery.
Warehousing
Within a warehouse or distribution operation, these capabilities track resources and goods. Products can then be found when participating in retail operations such as stock picking, stocking, shipping, and receiving. Staff can then transport items to a retail location or directly to a consumer.
Estimate of demand
Using algorithms based on historical sales, current inventory levels, and consumer variables, SCM systems can forecast supply and demand changes. By matching inventory levels to projected demand, businesses may avoid waste, wasted money, and lost clients.
Procurement
The capacity to pay suppliers quickly is the primary advantage of automating supplier purchase orders. This utility may offer you permission and expense monitoring control, as well as a visible audit trail for future cycles.
Ordering, followed by return processing
When order fulfillment systems are used, order inquiry, quote, billing, shipment, and delivery are all facilitated. Refunds and revenue recognition are handled in addition to all of the other systems in which these technologies are employed.
Vendor administration
Businesses that specialize in sourcing may get direct access to supplier assets and data, maximizing both the value they receive and the value they offer. Performance monitoring, risk assessment, and supplier segmentation are all possibilities.
Benefits of implementing supply chain management software
The outcomes improvement
Supply chain management solutions provide advantages such as improved production methods, increased corporate participation, and collaboration. Reduced downtime and simplified procedures improve customer and supplier relationships. Data sharing is critical to improving financial reporting and accounting, especially when it comes to faster reporting.
Lowering costs
Companies that use SCM software may be able to avoid supplier bottlenecks sooner, pay less for labour, and use less transportation. This enhancement, along with automated processes for invoicing, ordering, and approval, has resulted in cost savings in product development.
A better capacity to see patterns and anticipate outcomes.
By acquiring, storing, categorizing, and analyzing data from every level of the supply chain, a supply chain management solution may assist organizations in optimising present operations and preparing for future growth. Businesses may use predictive analytics to anticipate potential dangers in the supply chain by performing test cases against historical data.
Rigors of obedience to the rules
Firms may trace individual goods or lots along the supply chain and leverage vast data libraries on production processes to rapidly give a comprehensive audit record.
There is less subjectivity and uncertainty.
A company that is slow to respond to the global market is at a disadvantage. Businesses may quickly switch between suppliers, distributors, and production sites with a transparent and linked supply chain. Weather risks, political upheavals, widespread medical concerns, and transportation delays may all be foreseen with SCM software. While increasing manufacturing, the firm improved its relationships with customers and suppliers.