Now that Australia's inflation rate is 3.8%, is it time to worry?
Written by

John Hawkins, Senior Lecturer, Canberra School of Politics, Economics and Society and NATSEM, University of Canberra
Suddenly, Australia's annual inflation rate is 3.8%, having jumped from 1.1% for the twelve months to March.
The June quarter jump follows a jump in the United States to 5.4%[1] and a jump in New Zealand to 3.3[2]%, sparking a debate between leading pundits such as former US treasury secretary Larry Summers[3] and Nobel Prize winner Paul Krugman[4] about whether high inflation is on the way back, after years of playing dead.
Annual inflation, Australia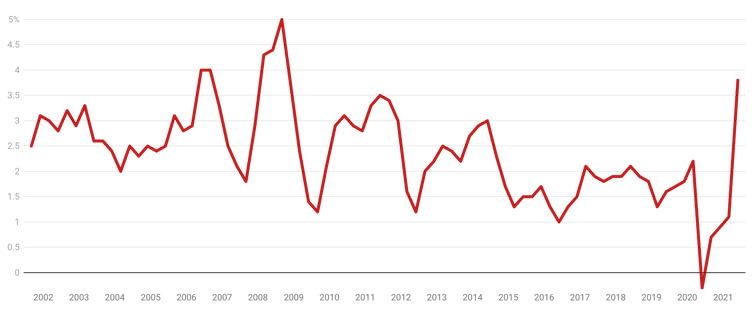 Authors: John Hawkins, Senior Lecturer, Canberra School of Politics, Economics and Society and NATSEM, University of Canberra
Read more https://theconversation.com/now-that-australias-inflation-rate-is-3-8-is-it-time-to-worry-165098