Australia's handling of the pandemic ranked more accountable than most, but not perfect
Written by

Miranda Stewart, Professor, The University of Melbourne
Governments worldwide spent more than US$14 trillion[1] fighting the health and economic effects of the coronavirus in 2020, much of it very quickly.
Among other things the timing of budgets was changed, procedural requirements bypassed, parliaments not consulted, and information not released.
In a new study comparing 120 countries, Australia was found to be one of only four countries[2] — along with Norway, Peru and the Philippines — whose processes were assessed as having "adequate" accountability.
The International Budget Partnership[3] study found that almost three-quarters of the countries studied (87 out of 120) failed to manage their immediate financial response in a transparent and accountable manner.
Almost two-thirds failed to provide transparency in procurement, half bypassed their parliaments, and only a quarter published expedited audit reports.
No countries were judged as having had "substantive" accountability.
Australia's accountability practices included delivering an Economic and Fiscal Update[4] in place of its postponed May budget and establishing an opposition-chaired Senate select committee[5] to monitor its responses to the pandemic.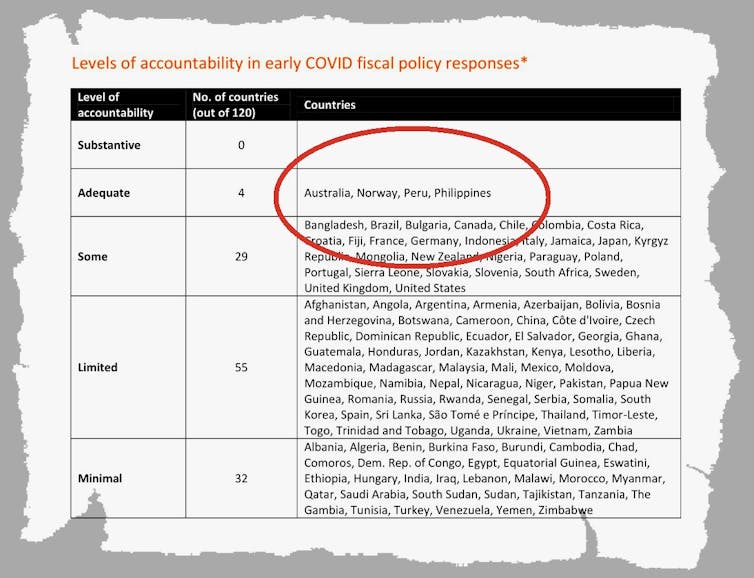 Authors: Miranda Stewart, Professor, The University of Melbourne
Read more https://theconversation.com/australias-handling-of-the-pandemic-ranked-more-accountable-than-most-but-not-perfect-163081