Launching Aussie Traveller's new lightweight Euro Walls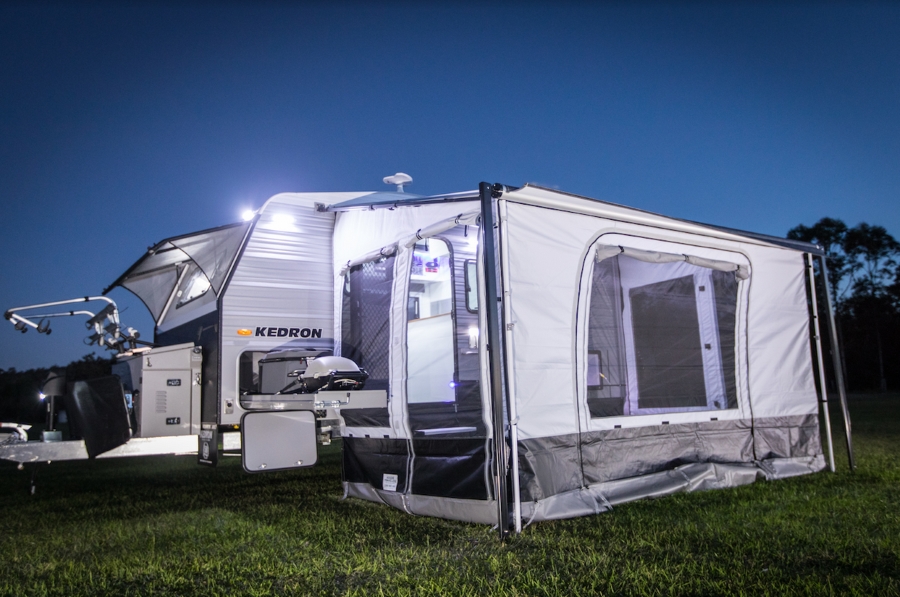 Aussie Traveller is bringing Aussie annexes to a whole new level with the introduction of, what the company believes is, the nation's lightest caravan living walls, the Euro Wall. 
Using lightweight quality European fabric with an innovative layout that features a zip in, zip out fly screen or PVC panel, Aussie Traveller's Euro Walls are being hailed as the must-have accessory for the caravanning and motorhome industry.
Aussie Traveller's Managing Director Michael Freney, said the Aussie Traveller team had taken a customer-centric approach to developing the new Euro Walls, relying heavily on feedback received from customers who were calling for an alternative to the traditional canvas annexe.
"Our team has spent the last 18 months working with industry specialists to develop a solution for our customers that addressed the pain points experienced when using annexes during their travels. We set out to create a product that was quick and easy to set up and clean, in a strong lightweight fabric which retained Aussie Traveller's high-standard of quality we are known for," Mr Freney said.
"Using European fabric, the Euro Walls are significantly lighter than traditional canvas and the new layout offers an interchangeable PVC panel which has been a feature commonly requested by customers.
"The initial feedback we have received following the launch has been really positive, and I don't believe that there's anything currently on the market that compares to the Euro Walls in quality, additional features, ease of use and cost."
With towing weight being a big issue for the industry, the Euro Walls provide relief for load conscious caravanners, providing a 25 – 30% per cent weight reduction on traditional Annexe Walls.
Every set of Walls are customised by Aussie Traveller to fit each van or motorhome individually, and come equipped with mosquito proof screens and vinyl mud skirts. Fitted to the awning using their popular Anti Flap-Kit provides a wind and water proof addition where travellers can enjoy the comfort of double the living space of a typical caravan.
"Traditionally, canvas annexes have blocked out almost 100 per cent of light transmitted into the living area which has been a big bugbear for many annexe users.
"Our new Walls allow light to be transmitted from the outside, so customers can enjoy a pleasant  living space while maintaining privacy.
"With ease of use top of mind during development, we made sure the Walls are quick and easy to erect."
The Euro Walls pricing starts from $2,100+GST.


ABOUT AUSSIE TRAVELLER
Aussie Traveller has been servicing the Caravan and motorhome industry with quality components and accessories including annexes, awnings, fridges, windows, doors, air-conditioners, generators and more for over 30 years. With highly experienced sales and support teams across Australia, Aussie Traveller provides exceptional service, fast delivery and strong after-sales care. Aussie Traveller is the only Australian manufacturer with the ability to custom-make awnings to ensure caravan owners have the best fit to suit their needs. Aussie Traveller uses only premium materials and products that are suited to the Australian environment, to ensure caravan and motorhome owners enjoy their purchase for years to come.