Saunders Electric Group finds the spark with Clipsal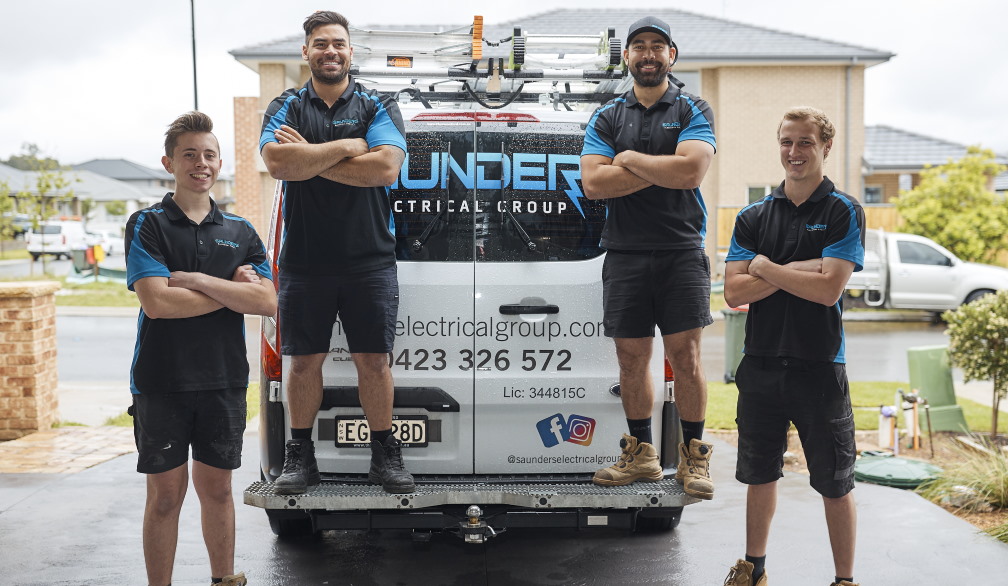 Australia is well-known for its entrepreneurial spirit in business, a power which has certainly manifested in Saunders Electrical Group.
Born out of New South Wales four years ago, the business thrives today, partnering with Clipsal along the way to help deliver reliable, fast and affordable electrical products to homes and buildings.
At the helm of Saunders resides Oliver Saunders, a licensed electrician of 15 years who decided to take the plunge and build Saunders Electrical Group to what it is today.
Upon graduating high school, Oliver wasn't entirely sure what his plan was. "My next door neighbour at the time was a sparky, after chatting with him I thought I'd give it a crack!"  
Since that chance moment, countless hours of apprenticeship and real-world experience were undertaken to prepare the business and remain competitively positioned since 2017. Oliver notes an early introduction to Clipsal at eighteen as a first-year apprentice, becoming fully versed in the safe and technologically advanced energy automation solutions for both homes and commercial buildings.
Truly a family affair, Oliver notes the joys of working alongside his brothers, Matt and Benny. "I'm pretty lucky to work with both of my brothers, we grew up playing footy around the world together, we have transitioned from teammates to work mates."
Outside of this, a second family with Clipsal coexisted. Oliver's appreciation for Clipsal products has grown since his entry into the world of electricals. "I love offering customers the Clipsal Iconic switches and sockets, they're so versatile and essential to future proofing your home."
As business owner and father of young children, Oliver juggles the complexities attached to both facets of his life, but proves it's not impossible. When executed well, it can truly be a rewarding experience.
Backed by Clipsal early on, Oliver hopes to inspire other sparkies coming up the ranks. If starting your own business is on your mind, Oliver says go for it. "If you're a sparky wanting to go out on your own, always be willing to learn and put your ego aside! If you really want it, I think you will find many ways to be successful."
Oliver and Saunders Electrical Group are featured as part of Clipsal's #SparkiesOfAus content series, celebrating 100 years of Clipsal in Australia.
About Clipsal
Since 1920 Clipsal has been providing safe and technologically advanced energy management and automation solutions for homes and commercial buildings.
As we have evolved and continued to lead the industry, we recognise the sense of pride and accomplishment that can be achieved through achieving quality outcomes.
Today, Clipsal is recognized by Homeowners and Electricians alike – in fact it's the most preferred brand for Electricians, providing both the solutions and support that are needed to make Australian homes and businesses more liveable, personable and efficient.  
Since becoming part of the Schneider Electric global footprint in 2004, local knowledge and passion for the Australian industry has married global technology and a belief in creating a more sustainable future, ensuring Life is On everywhere for everyone, at every moment.
Our uncompromising focus on meeting Australian standards and ensuring product design suits our Australian lifestyle, coupled with the global research and development backing of Schneider Electric, means our extensive range is at the forefront of the industry.  
For the future and next 100 years, we'll continue to leverage both our international and cutting edge innovation capacity and local DNA to lead the industry and ensure a sustainable and freeing future for all.