How Digital Tools Can Help The Healthcare Industry
Written by

George Griffiths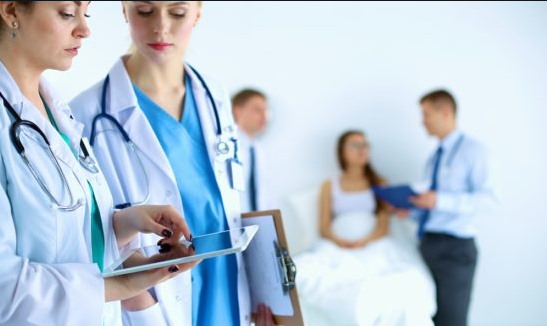 As the world shifts as a result of Covid-19, solutions arise. The Healthcare industry continues to explore the digital sphere to find suitable tools to face the current situation.
Nevertheless, recent surveys have pointed out that only under 10 per cent of healthcare companies had gone digital, compared to 15 per cent of companies in other industries. Technology can improve patients' experience: better treatment with virtual reality tools, wearable medical devices, telehealth, and 5G mobile technology. But on the other hand, healthcare staff can also benefit from this transition.
When we talk about digital tools, this label can expand from artificial intelligence (AI)- enabled medical devices to less complex phone apps to telemedicine. Although these are only a small number of examples that represent this transformation. In this article, we will touch upon some of them to examine the extent to which these digital tools can help the healthcare industry.
Phone apps
Undoubtedly, the most accessible tool that can be found in day-to-day life. Health apps have become extremely popular and heterogenous, there are now over 318,000 apps available worldwide. They are a common source of help and information for people to improve their wellbeing and also manage their health. In any case, these apps are also being used by certified health professionals.
Therefore, the quality of these apps becomes crucial to maintain the standards required by the healthcare industry. The EU guidance sets these standards, at least it has until future policies are implemented, and requires apps to be CE marked. Nevertheless, this does not automatically guarantee the high quality of an app but it does create a procedure which enables medical staff to assess them through hands-on usage to, later on, be able to both incorporate these apps into their practices and prescribe them to patients.
The most popular apps related to healthcare are linked to general health and wellness, specifically those concerning weight loss, workout sessions and nutrition. According to the Forbes top ten apps list, six of the apps provide the user fitness assistance through video exercise. Fitbit and MyFitnessPal lead the ranking.
This option is considered popular among many people and medical staff alike. Looking at the numerous apps out in the market, many already provide the assistance many health providers require. Support, efficiency and patient-focus become essential in this process. To know more about these apps, check this article.
Personal health records and patient portals
Continuing with clinicians' practices and their use of digital tools, Personal health records (PHRs) are essential to keep flowing communications between practitioner and staff. These reports and medical records must be sent through HIPAA compliant online fax service providers. They are a key part of the maintenance and management of their patients' health, but also a powerful tool for patients to become more aware of their health.
Accessibility to their records, tests and direct communication with their doctors can again reduce barriers in producing a quick and more effective form of sharing between clinical staff and patients, as well as the opportunity to share records across different care providers. If you are a healthcare business owner, aiming to give your business an edge, check out healthtechresourcesinc.com.

Digital tools then become the answer to this issue, and with them, clinicians must also encourage and support patients to use them, however, is most suitable. But there comes the dilemma; the latest studies have analysed the current types of PHRs, the benefits that come with it, the issues or barriers holding back progress and the evidence of good practice.
When we add the current situation to the equation (what with isolation and distancing measures in place) digital tools and the home care sector come hand in hand.
These are crucial to allow carers as well as doctors to communicate and share information. In this aspect, many management systems enable health professionals to stay updated with all reports, uRoster exemplifies one of these digital home care management systems.
Wearable technology
From a user-experience perspective, the functionality of receiving heart rate notifications in many smartwatches is likely to lead to health improvements.
Detecting heart rate disorders and abnormalities in heart rate rhythms could lend itself to much earlier diagnoses. The wearable technology may not yet level medical monitors and devices, but it has shown the potential to provide real value and make a difference in this field.
The introduction of digital solutions to the healthcare industry is not only a way to improve patient access and system effectiveness, but also a way to ease medical staff workload. From diagnosis to referral, consultation to treatment, digital tools will continue to contribute to a more efficient healthcare industry.