upcover - insurance start-up launches to protect food delivery drivers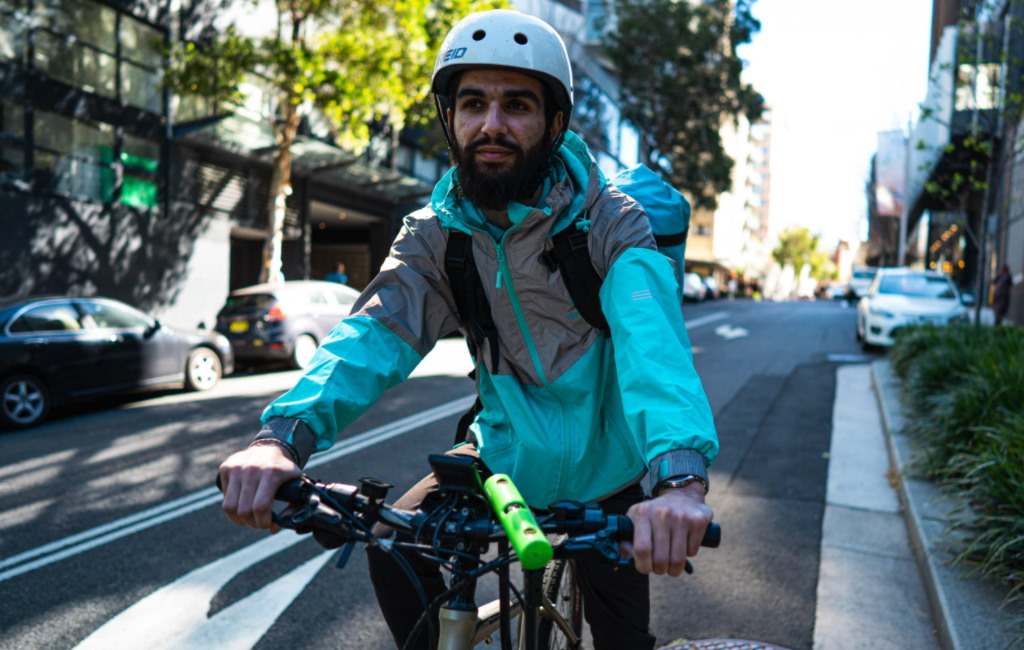 It's insurance, but not as we know it. Introducing upcover,  Australia's first ever tailored pay-as-you-go insurance, designed to meet the ever changing needs of Australia's gig economy. Inspired by food delivery workers, upcover has designed an insurance policy to provide tailored, holistic cover to Australia's fastest ever growing workforce.  
Job security and traditional ways of working have changed during COVID-19. Many have found that the solution is to work for themselves, and as a result, the gig economy is exploding across Australia. Pre-pandemic, 1 in 10 Australians worked in the gig economy and more than 80,000 of those Australian gig workers are food delivery workers, who are currently making more than 150 million food deliveries each year, and contributing an estimated $6 billion to the Australian economy. Post-pandemic, these numbers are exploding, and it is clear that Australians are hungrier than ever.
Skye Theodorou, Co-founder and CEO of upcover, says, "While many of us have been staying home to stay safe, the gig economy is exposed. They are out on the front line, helping to provide essentials to everyday Australians living and working from home. These workers' conditions need to be improved, so we have launched upcover to make insurance and protection accessible, fair and affordable and we're starting with food delivery workers. 
"Employees of the gig economy, or 'on-demand' workforce often work for multiple companies, and while given the freedom to work on their own time, they may also be subject to more control and pay limitations from the digital platforms who pay them. They are exposed to a number of high risks every day, and this product is one way to ensure these workers have the protection they need, and that insurance is accessible to them and simple to use. 
"The majority of food delivery workers are highly qualified international students who turn to food delivery platforms as a way for them to earn an income. They will often work for a platform such as Uber Eats, Deliveroo, EASI or DoorDash. However, these platforms are not considered to be their 'employer'. This means these workers' have limited access to the benefits that most 'employees' would gain such as protection against injuries and accidents while they work."
In recent weeks, fatal accidents have triggered demand for an insurance product capable of covering worst case scenarios, as well as the day to day requirements of food delivery workers, such as bike theft and upcover's contemporary 'COVID-19 relief' cover. Now available on iOS and Play Store, upcover is the only AFSL compliant cover that allows food delivery workers to protect themselves against these common accidents. 
The first of its kind, upcover has taken a notoriously complex process, and simplified it for the gig worker. With it's handy mobile app, and conversational user interface, upcover's community managers help answer questions 'on the go' in a food delivery worker's native tongue. This insurance product was designed and perfected by the founders, Skye Theodorou and Anish Sinha, as a result of hours of conversations out on the streets, with food delivery workers and by infiltrating workers' WhatsApp groups. 
Founders Skye Theodorou and Anish Sinha are also poised to expand upcover's products to cater to the insurance requirements of more than 280 occupations, now working in the 'gig economy' such as cleaners, tradespeople, beauticians, professionals and freelancers. The market potential in Australia just for upcover's core products alone is more than $2 billion.
The upcover delivery insurance covers: 
Vehicle theft (bike and e-bike)

Vehicle damage (bike and e-bike) 

Injury or damage to others or property while at work 

Lump sum payments for rider injuries while at work, or travelling to and from home

Loss of income cover for up to one year for injuries while doing food deliveries 

Loss of work due to COVID-19, waiting period of 30 days 

Food delivery worker assault while at work
upcover co-founder and COO, Anish Sinha, says, "Getting started with upcover is easy, too. You need only answer a few simple questions and we can have a price and insurance cover in seconds. We are working on securing partnerships with existing delivery platforms to make this even easier for drivers, and are excited to announce that we are launching in partnership with EASI with more delivery platform partnerships to come."
So what makes upcover different from other gig-worker insurance providers? 
upcover has built the product, the policies and the technology from the ground up to meet the needs for this 'new way of working', and have developed their own pricing structure with its insurance partners, Agile Underwriting Services Pty Ltd, backed by global institution Lloyds of London, one of the strongest and oldest insurance marketplaces in the world.   
upcover co-founder and CEO, Skye Thoedorou, says, "We have had the unique experience of writing our own policies based on feedback we have received from delivery drivers themselves. This way, we have been able to replace traditional complex wording and policies from the 70's, into the modern age. 
"Insurance for delivery drivers is just the start for us. With so many essential sectors now working for themselves - from tradies to beauticians, cleaners, consultants and aged care contractors - it is time that affordable cover was offered to those who work independently, and as simply and easily as possible, and we will meet that demand.
"The gig economy isn't going anywhere, and will continue to thrive beyond the pandemic. Protection for these workers needs to be improved long-term, for food delivery workers and all other sectors of the gig economy."
About Skye Theodorou, CEO and co-founder, upcover: 
Skye launched upcover, Australia's first insurtech that partners with leaders in insurance to provide insurance and benefits products for the fastest growing workforce in the world - the gig economy in 2019, after meeting her fellow co-founder at Sydney startup generator Antler. As CEO, with a strong risk, compliance and legal background, Skye has a passion for transforming insurance for small businesses in Australia, and has extensive experience in the financial and insurance industry, having previously worked at Zurich Insurance and the NSW Government. Skye studied at UTS, B. Business (Hons) and LLB and is a certified lawyer of the Supreme Court of NSW, Australia.